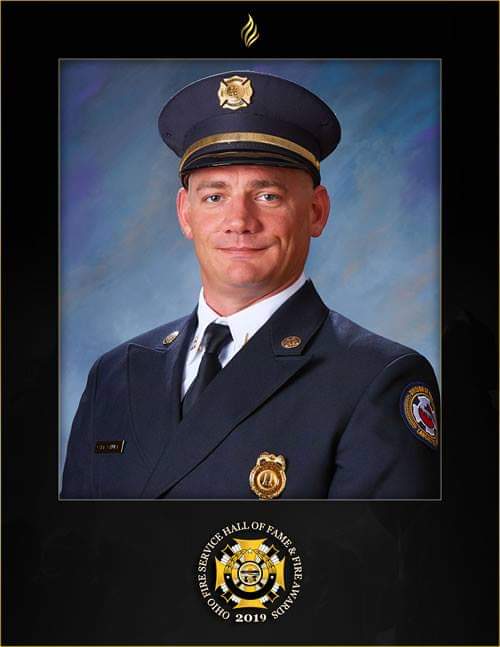 OHIO STATE FIRE MARTIAL- Captain Slade Schultz of the Lancaster Fire Department is a third-generation firefighter who has devoted his career to excellence and has shown great care for the prosperity of his community, volunteering his time to support countless nonprofit organizations.
He also works as a fire and EMS adjunct instructor for Hocking College and is the EMS program director for Ohio University Lancaster Pickerington. As a graduate of Ohio Fire Executive Class #13, Capt. Schultz put his executive fire administration training to work in the development and implementation of initiatives such as run cards for the department and the year-long process of EMS protocols for the Fairfield County region.
Equally challenging was his role in the Ohio convicted arsonists' registry. After identifying a need for such a registry, his collaborative efforts led to the passing of a law in 2013 to create and maintain the registry, which is serving as an important tool for fire investigators.
Learn more about his amazing accomplishments by clicking here
A quote from the Lancaster Fire Department's Facebook:
"We are so blessed to have this distinguished fire officer as one of our own.
Captain Slade Schultz will be awarded as "Fire Officer of The Year" by the Ohio State Fire Marshal on 9.18.2019
Captain Schultz is a leader amongst leaders in the fire service. Lancaster FD and the citizens of Lancaster are extremely lucky to have him serve us. He has worked hard for many years to achieve the knowledge, skills and abilities that make him eligible for this award. His dedication to the profession and leadership qualities are definitely why he is receiving this prestigious award.
Those of you that know him completely understand why he was selected. He brings out the best in everyone he is around. We look forward to many years of his continued leadership and making Lancaster Fire great!"
#HOF2019
Click here to visit the Facebook post by the Lancaster Fire Department