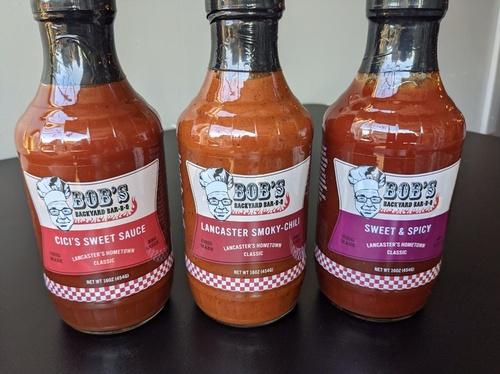 LANCASTER, Ohio (Wednesday, October 6, 2021) – Just in time for the fall and winter holiday seasons, Bob's Backyard Barbeque launched a new retail sauce line featuring its three signature sauces bottled for at-home use. Sauce flavors include Cici's Sweet Sauce, Lancaster Smoky-Chili Sauce, and Sweet & Spicy Sauce.
The sauces will sell for $7 per bottle and are available during regular business hours at the restaurant, located at 157 W. Main Street, Lancaster. Shipping will be available soon.
"We are so fortunate to have fans of our barbeque both locally and across the country. We wanted to give customers a way to take the flavor home with them," said Bob Bennett, owner. "We hope that by bottling the sauces we use in our restaurant, we can allow more people to enjoy them in their own backyards!"
Bob's Backyard Barbeque started in the backyard of Bob and Maggie Bennett, where they hosted friends and family, weekend after weekend, for an entire summer trying to perfect their barbeque style. Being a physicist by education, Bob loved the science of smoking meat, and it eventually became a passion. Bob is self-taught by studying pit-master processes from all over the country. The restaurant began as a food truck, and quickly outgrew the truck's production space, leading expansion to a stand-alone restaurant location. The company operates catering services and its original restaurant location in downtown Lancaster. Find more information on Facebook, Instagram or at www.bobsbackyardbarbeque.com.
The restaurant is located at 157 West Main Street in Lancaster Ohio