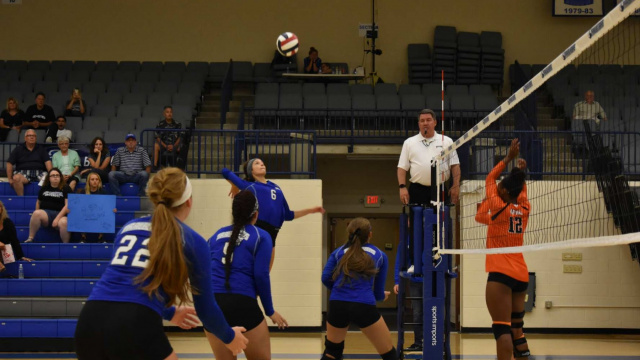 CIRCLEVILLE
The Ohio Christian University Lady Trailblazers opened their 2017 season on Wednesday afternoon with the hope of improving from last year and making strides within the NAIA. The team, led by six returning seniors, would open the year with a home tri-match against Mount Vernon Nazarene University and the Univeristy of Pikeville. Overall, the Lady Trailblazers would struggle to gain momentum, falling in both games 3-0.
- Advertisement -
In the first match of the day, the Lady Trailblazers would struggle to get into a groove early, leading to a quick deficit and the 3-0 defeat. Mount Vernon would be led by both Mary Kate Harmody and Casey Bunner, who would combine for 28 total kills in the match. For the Lady Trailblazers, Senior Megan Morrison would finish with five kills and six digs to go along with one solo block.
Following the second match of the day, OCU would re-take the court to face the Bears of Pikeville. Once again, defensive struggles would lead to a tough match. OCU would play Pikeville close in the second set, but the Bears would eventually come out on top, taking the match 3-0. The Bears finished the game with 30 kills, while the Lady Trailblazers only tallied 17.
- Advertisement -
"The biggest thing that impressed me today was our serving. We served extremely well, taking them out of their offense," said Head Coach Danielle Heffernan. "The biggest thing moving forward is being able to play strong, relentless defense both up front and in the backcourt." One new face that made a quick impression on the court was Freshman Brooke Mazzocca. "She is going to a good player for us. She has a strong hit in the front and can also serve very well. Her serves can definitely provide some momentum, and we are excited to see what she can do in the next few years."
For a full post game interview with Head Coach Danielle Heffernan, see below.