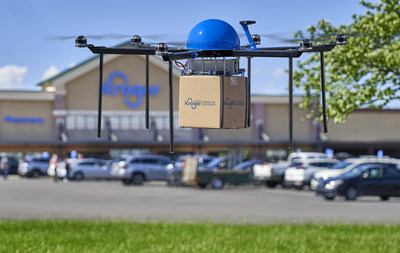 OHIO – Delivery of groceries may come in a different way soon, drones.
Kroger is working on a pilot test for drone delivery in Centerville, Ohio's Kroger Marketplace.
According to a press release from the company, Drone Express will commence test flights this week from the Ohio town. The flights will be managed by licensed Drone Express pilots from an on-site trailer with additional off-site monitoring. Customer deliveries are scheduled to begin later this spring, and a second pilot is scheduled to launch this summer at a Ralphs store in California.
"Autonomous drones have unlimited potential to improve everyday life, and our technology opens the way to safe, secure, environmentally friendly deliveries for Kroger customers," said Beth Flippo, Chief Technology Officer, TELEGRID. "The possibilities for customers are endless – we can enable Kroger customers to send chicken soup to a sick friend or get fast delivery of olive oil if they run out while cooking dinner."
"The launch of the pilot in Centerville is the culmination of months of meticulous research and development by Kroger and Drone Express to better serve and meet the needs of our customers," said Ethan Grob, Kroger's director of last mile strategy and product. "We look forward to progressing from test flights to customer deliveries this spring, introducing one more way for our customers to experience Kroger."
"Kroger and Drone Express made a great choice in piloting this program in Centerville – a community with a robust business network focused on progress and stability near the birthplace of aviation," said Centerville Mayor Brooks Compton. "Families here have the power to transform grocery delivery around the nation and the globe. We look forward to placing our first order."