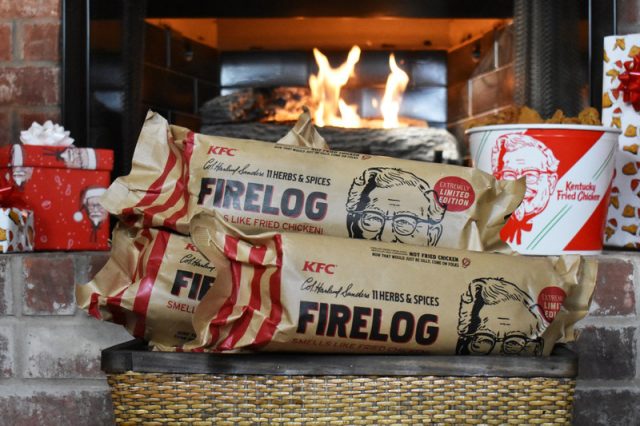 USA -KFC has created a firelog that when burned it creates the smell of KFC's world-famous fried chicken. The company released the logs last year and has rereleased them this year due to popularity.
 Yup that's right, you now can burn the pressboard wood log and it will smell up your house like KFC fried chicken.  Just in time for the Christmas Holidays.
"At KFC, we have always been proud of our role in bringing loved ones together at the dinner table around a bucket of our world-famous fried chicken," said Andrea Zahumensky, KFC U.S. CMO.  "Now, this winter we're bringing all the things we love – family, friends, and fried chicken – together around the fire with our scented firelog."
According to a press release from KFC, the KFC 11 Herbs & Spices Firelog is the perfect accessory for any winter gathering, whether you're spending the holidays with family, friends, significant others, in-laws or bizarre extended family you've never met before.
Available for $18.99 while supplies last at www.KFCFirelogs.com, KFC 11 Herbs & Spices Firelogs are best experienced alongside a KFC $20 Fill Up.