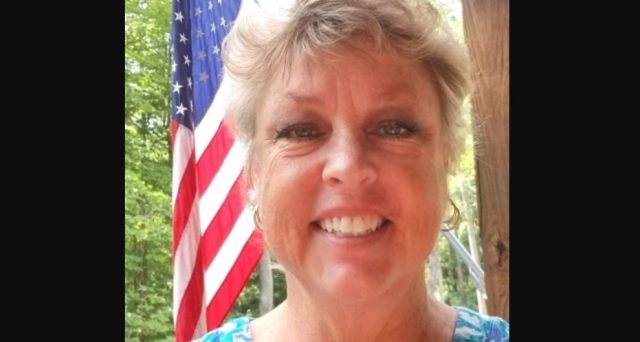 Jeanne Darcel (Schlichter) McCall age 61, died peacefully at home in Cedar Mountain, NC surrounded by her family on August 12, 2021, after a courageous battle with colon cancer and leukemia.
If you were ever the recipient of one of Jeanne's gorgeous smiles, then you were blessed indeed! Her smiles were contagious, and her heart was full of kindness for those that crossed her path. She was born to David and Neva Schlichter in Circleville, OH on January 21, 1960. Jeanne was a 1978 graduate of Circleville High School, where her artwork decorates its new building. With a paintbrush in hand, she could transform the most mundane object into a treasure. A few are privileged to wear her sketches permanently. In addition to art, Jeanne had a proverbial green thumb. Her garden, whether flowers or vegetables grew beautifully and bountifully. She was very talented and found someone to share her talent with. Jeanne and Timothy Mark McCall, a native of Brevard, NC, were married in 1982. For 38 years they have walked beside each other sharing joys and sorrows, and a passion for creating art in various mediums. They raised two children, Timothy Mark McCall, Jr., and Jennifer McCall, both residing in Circleville, OH. Most recently she would sit on the front porch of her mountaintop home and watch for the deer, turkey, and the occasional bear to pay a visit. If you were sitting beside her, Jeanne would share one of her wonderful smiles with you and tell you that all will be well, she led a blessed life; full of love, laughter, and adventure, and that now she was at home with her Savior and Lord.
Jeanne McCall is survived by her devoted husband Mark, her children Timothy and Jennifer whom she adored, her sister Joellen Byerly (Tom), her brother David Schlichter (Suzann), her mother-in-law Betty McCall, sister-in-law Diane Potts (Gene), and numerous nieces and nephews that she loved wholeheartedly, without condition. Lastly, her constant companion and fearless protector, Rosie.
The family would like to express their gratitude and love for Four Seasons Hospice Care and the incredible nurses that cared for Jeanne her last days. Their devotion beyond the call of duty was nothing but pure love.
At her request, no services will be held. Her family asks that as you remember her, you celebrate the way she touched your life, and the life that she lived, to the glory of God.
Any monetary donations should be directed to a church or charitable organization of your choice that may reflect Jeanne's life.