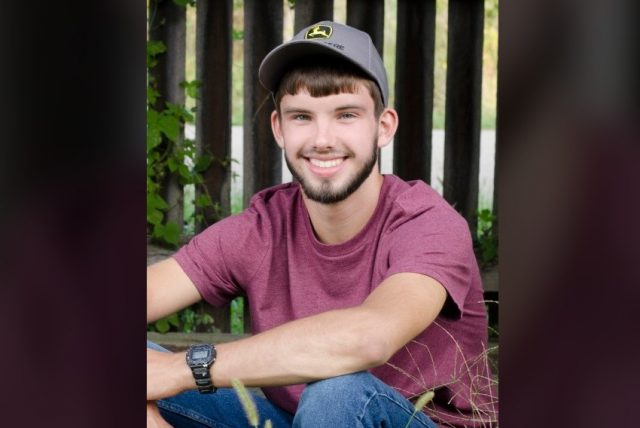 Jarod T. Noble, 18, of Circleville, passed away unexpectedly on February 9, 2022 as the result of a car accident. 
Born February 13, 2003 in Chillicothe, Ohio to Rick and Lisa (Ault) Noble, Jarod was preceded in death by Grandfather Harold Ault; aunts Cheri Ellars and Terri Yerian; and cousin Phillip Graves.
He is survived by his parents; sister Rachel; grandparents Phil and Marla Yerian, and JR and Josie Noble; aunts and uncles Jeff (Tami) Ault, Jennifer (Travis) Dennie, and Scott (Sherry Havens) Yerian; cousins Cassie, Kayla, Justin, Chase, Caleb, Dylan, Chloe, Colton, Isabella, and Emma; best friends Isaac Thompson, Justin Rhoads, Connor Russell, and Hunter Dickson; special family friends, the Hopkins, Kinzer, Lowery, and Park families.
Jarod graduated from Logan Elm High School in 2021 and completed one semester at Ohio University where he studied Mechanical Engineering. He quickly decided that he preferred working with his hands and being outside, and had plans to start Lineman training in the spring. No matter the course, with his brilliant mind and ambition, he had a bright future ahead of him.
He was a member of Mt. Pleasant Church in Kingston where he was active in the youth group and developed a strong Christian faith. With his outgoing personality and humor, Jarod made countless friends and enjoyed helping others. People often told his parents how helpful, polite, and hard-working he was.
At a young age, Jarod developed a passion for all things engine or mechanical in nature. He loved riding four wheelers, dirt bikes, and tractors, and driving trucks. Jarod never hesitated to tackle big mechanical projects, like rebuilding an engine, and loved fixing things. He truly lived life to the fullest and had fun each day. He could often be found at McDonalds ordering McChickens and a Dr. Pepper.
            From second grade on, Jarod was active in Scouting.  He was a member of Boy Scout Troop 170, achieving Boy Scouts' highest rank of Eagle Scout.  In all of his years of scouting, there was rarely a scouting activity that he missed, including trips to the Northern Tier, Sea Base, and hundreds of hours of community service.
            Funeral services will be held at 1:00 p.m. Saturday, February 12, 2022 at the Wellman Funeral Home with Rev. Barry Bennett and Pastors Matt Steinbrook and Aaron Shipe officiating.  Burial will follow in Mt. Pleasant Cemetery, Kingston.  Friends may call at the funeral home on Saturday from 11:00 a.m. to 1:00 p.m.
            Through Boy Scouts, Jarod loved helping his community.  Collecting food for the food pantry was an activity he always enjoyed.  In lieu of flowers, please consider donating to the Circleville food pantry, with checks payable to Emergency Clearinghouse Food Pantry, P.O. Box 1011, Circleville, OH 43113.  .  Online condolences can be made at www.wellmanfuneralhomes.com.