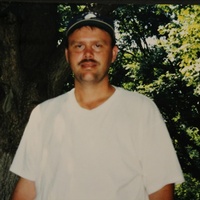 James Andrew Seymour
August 31, 1965 – August 14, 2017
James Andrew Seymour, age 52, passed away on the afternoon of August 15, 2017. Born in Columbus Ohio he was the youngest child of 13 brothers and sisters. He was intelligent, a skilled carpenter, he had a remarkable sense of humor, and was always up for an adventure. In his early 20's he served in the United States Navy and was honorably medically discharged. He spent the last years of his life in an assisted living facility. 
He is proceeded in death by his parents Arthur Seymour and Elinor (Hill) Seymour, his sisters Christine Clay (Scott) and Debra Edwards and her husband Phil Edwards, and Andrew's nephew Scotty Bailey. He is survived by a large family of his siblings who are listed from eldest to youngest: Marilyn Gillium, Steve Seymour (Sandy), Beverly Seymour (John), Lon Seymour (Sally), Julie Buskirk, Frances Sony (Denny), Mike Seymour, Kathy Wright (Beau), Elizabeth Lynch (Bill), and Margaret Seymour.  As well as numerous nieces and nephews. 
James Andrew Seymour will be cremated. He will be greatly missed by his remaining family, who is planning a private ceremony to honor his memory.
Andrew suffered most of his life from the clinical illness of schizophrenia. It on-set in his teenage years and steadily progressed throughout his life. Schizophrenia is an illness that is extremely common in America, despite the majority of people having misconceptions about the disease, or not really knowing much about it. Schizophrenia is a long-term mental disorder involving a breakdown in the relation between thought, emotion, and behavior. It leads to faulty perception, inappropriate actions and feelings, and a sense of mental fragmentation, As well, those suffering experience a withdrawal from reality and personal relationships, and descend into fantasy and delusion. Currently, there is no cure for Schizophrenia, and if it IS caused by genetics, the specific gene responsible has not yet been discovered. Medications and treatment methods have changed throughout the years, and researchers today are still studying; hoping for the end-all-be-all solution.
Included is the link to the website to one of the most respected, and up to date scientific institutions that research schizophrenia and other debilitating mental health disorders. They make available to the public scientific articles and journals from the leading experts in the field and they also provide education and training to enable facilities to better take care of their patients. *If you would like, you may donate money in honor of James Andrew Seymour, to the Schizophrenia International Research Society (SIRS) to help further research and better treatment practices. One day there may be a cure for the disease our loved one suffered from his whole life.