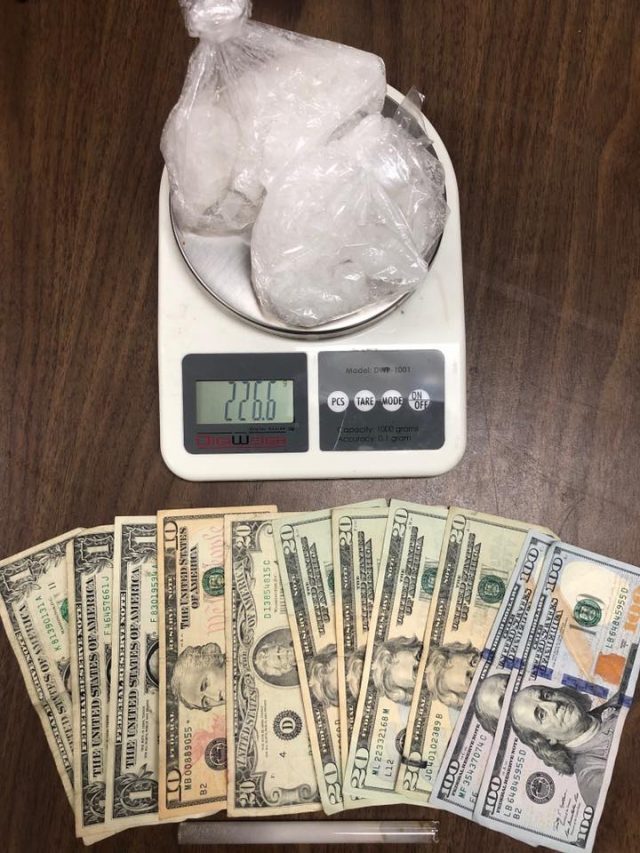 Jackson – A Scioto County man was detained on September 10 after committing marked lane violations on Route 35, near mile post 11 in Jackson County. Although the traffic violations led to the stop by a Jackson County Sheriff Deputy, the 30-year-old from Portsmouth may also face drug trafficking charges.
A Deputy observed a 2011 Ford Fusion, commit three marked lane violations and initiated a traffic stop. The male driver was not the registered owner of the vehicle. Due to the nervousness of the driver, the Deputy directed K-9 Hersey to perform a vehicle scan for illegal narcotics.
K-9 Hershey showed interest at the driver's side front and the passenger side front door for the presence of illegal narcotics in the vehicle. The search of the car revealed a pipe with suspected methamphetamine residue; a black, mesh bag containing two baggies, each weighing approximately 113 grams, for an approximate total of 226 grams of suspected methamphetamine. Also seized was $313 cash.
The crystalline substance will be taken to BCI Athens for laboratory testing. The male was released from custody. Because the male was not charged his identity has not been released. According to Jackson County Sheriff Tedd Frazier, it is protocol to release individuals from custody pending test results on suspected illegal drug cases.
Once the results are received from BCI, the case will be sent to Jackson County Prosecutor Justin Lovett for review and the possibility of filing charges, which may be of felony level. The cash seized may also be forfeited.