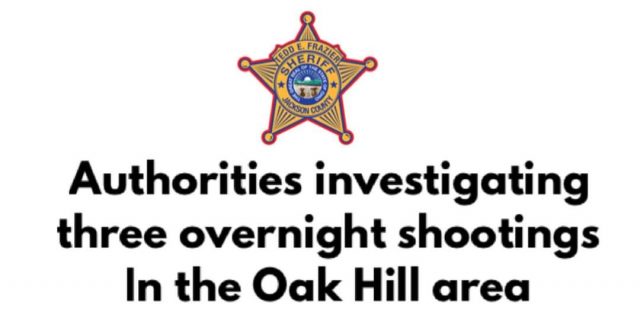 Jackson County OH- Jackson County Sheriff Tedd Frazier and Oak Hill Police Chief David P. Ward have released that their agencies are investigating two incidents where three people were shot. The incidents are believed to be connected and occurred in the early hours of Friday, October 30, 2020.
Authorities are reporting that three adults have been shot at two locations in the Oak Hill, Ohio area.
The Jackson County Sheriff's Office (JCSO) and the Village of Oak Hill Police (OHPD) were dispatched to the first location in the southwest side in the Village of Oak Hill, just after 2 a.m. A male and a female were discovered with gunshot wounds, on Ohio Avenue.
The male, identified as Paul E. Sheets, 51 of 216 ½ Ohio Avenue is a patient in stable condition at Cabell Huntington Hospital, in Huntington, W.Va. The female victim, identified as 48-year-old Tabatha Sheets of 216 ½ Ohio Avenue is a patient at Grant Medical Center in Columbus. Her condition this afternoon was listed as critical.
While JCSO, OHPD and the Ohio Bureau of Investigation (BCI) were investigating the Ohio Avenue scene, another call came in of a shooting just after 7 a.m. in Hamilton Township.
Jackson County Coroner Dr. Alice Frazier was called to 1473 Dark Hollow Road, Oak Hill. The body of 61-year-old David Yeley was discovered. Yeley was taken to the Montgomery Cunty Coroner's Office for an autopsy.
As of 3:30 p.m. today, Friday, October, 30, 2020, two persons of interest have now been charged with the shooting of Paul E. Sheets.
Lonnie L. Sheets, 58, and Lisa L. Sheets, 57, both of State Route 140,Wheelersburg. Both individuals are charged with a first-degree felony charge of felonious assault.
Additional charges are pending the result of a Jackson County Grand Jury for the shootings of Yeley and Tabatha S. Sheets.
The Jackson County Sheriff's Deputies, in corporation with the Oak Hill Police, the Scioto County Sheriff's Deputies and the Ohio Bureau of Investigation (BCI) continue to investigate this case.
Special thanks to Scioto County Sheriff Marty V. Donini's deputies and detectives Brian Nolen, James Staten, Matt Frantz, Jodi Conkel for their assistance in this case.
No other information will be released at this time as this case is a continuing investigation.