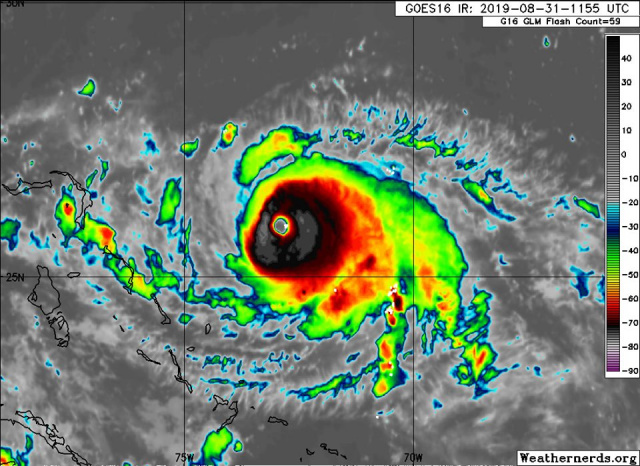 Discussion: John Tinney, Member of Ohio News & Weather
MORNING UPDATE ON HURRICANE DORIAN: Dorian continues to get a little stronger this morning as of the 8 AM EDT Advisory. Dorian has sustained winds of 145 mph but picked up a little speed moving West at 12 mph. Dorian is expected to slow down however as it approaches the East Coast of Florida.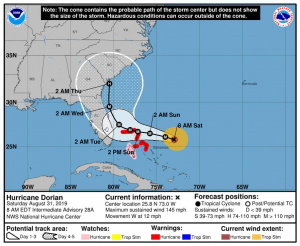 TOO CLOSE FOR COMFORT: It's gonna be an incredibly close call for the East Coast of Florida. While most models and even the ensembles keep the center of Dorian off the Florida Coast you CANNOT let your guard down. You need to prepare as it will still make landfall. You are still very much in the Cone of Uncertainty. Remember the cone is where the center may travel. The entire peninsula of Florida is still in that cone meaning the center of Dorian could be as far West as Tampa or as far East as Daytona Beach based on the width of that cone. Even if Dorian stays just East of Florida heavy rain and tropical storm force winds will be an issue on the West side of Dorian given this is a very symmetrical storm.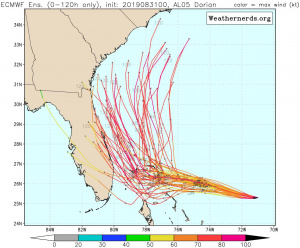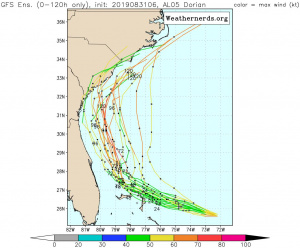 GEORGIA AND THE CAROLINAS: You folks in Georgia and the Carolinas your threat from Dorian is increasing exponentially. You need to go over your hurricane preparedness plan and be ready to act on it. Several models bring this onshore briefly along the Georgia, South Carolina Coast. You must pay close attention to the forecast in the coming days.
We will continue to watch Dorian closely. I plan another LIVE update around 11:30 AM EDT/10:30 AM CDT. We'll have a new advisory and updated track. Plus all the model analysis with Live Q&A over on Ohio News & Weather.