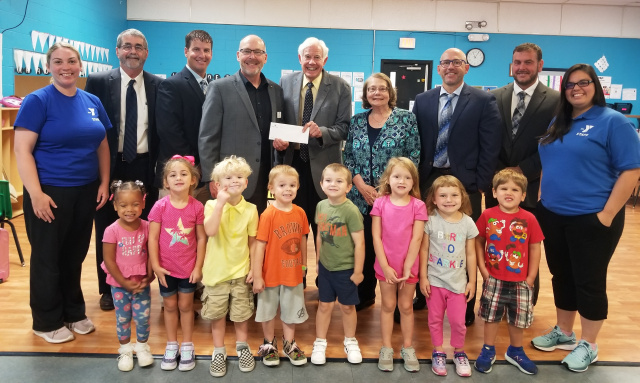 Circleville, Ohio (September 3, 2019) – Hummel & Plum Insurance Agency and the Westfield Insurance Foundation today awarded grants totaling $10,000 to the Pickaway County Family YMCA. The grants will help support the YMCA's Y-Club Before/After School child care programs.
Part of Westfield's Legacy of Caring Program, Hummel & Plum matched Westfield's $5,000 grant with an additional $5,000 grant.
"At Hummel & Plum Insurance Agency, we want every member of our community to grow and experience a vibrant future," President Drexel Poling said. "We are proud of our collaboration with Westfield that allows our agency to honor its commitment of enhancing and helping educate the communities where we live and work."
"We are so grateful for the generous support of our YMCA," Executive Director Jeff Phillips said. "The Legacy of Caring grant will have a direct impact of children of Pickaway County. It will help us provide the support and hope needed to be successful."
This year, Westfield Insurance Foundation donated more than a half million dollars to neighborhoods in 15 states. Hummel & Plum is one of 76 agencies that nominated a nonprofit, including the Pickaway County Family YMCA, for the Westfield Legacy of Caring grant program.
"Together with our partners, Westfield continues to build on a strong commitment to caring that the founders of the company imagined," Westfield President/CEO Ed Largent said. Largent also serves as board chair and chairman of the Westfield Insurance Foundation.