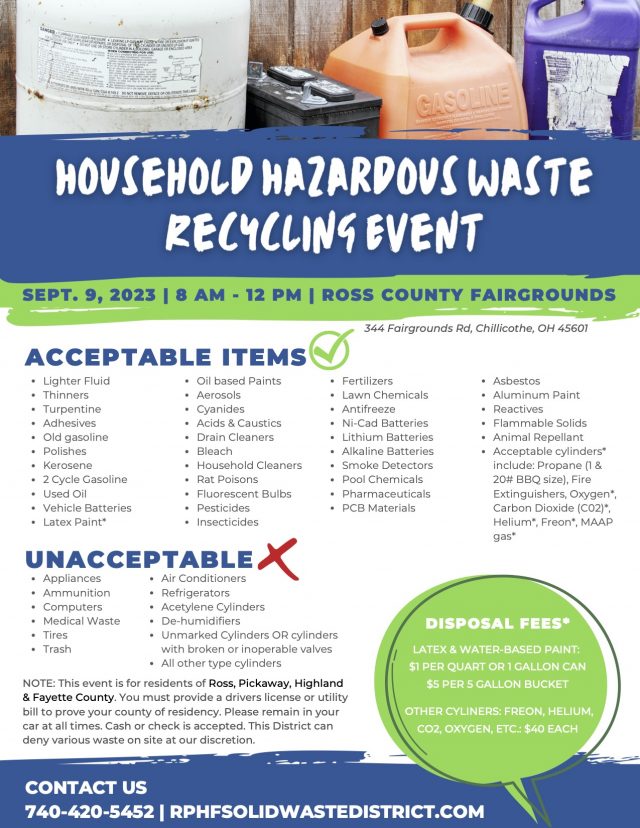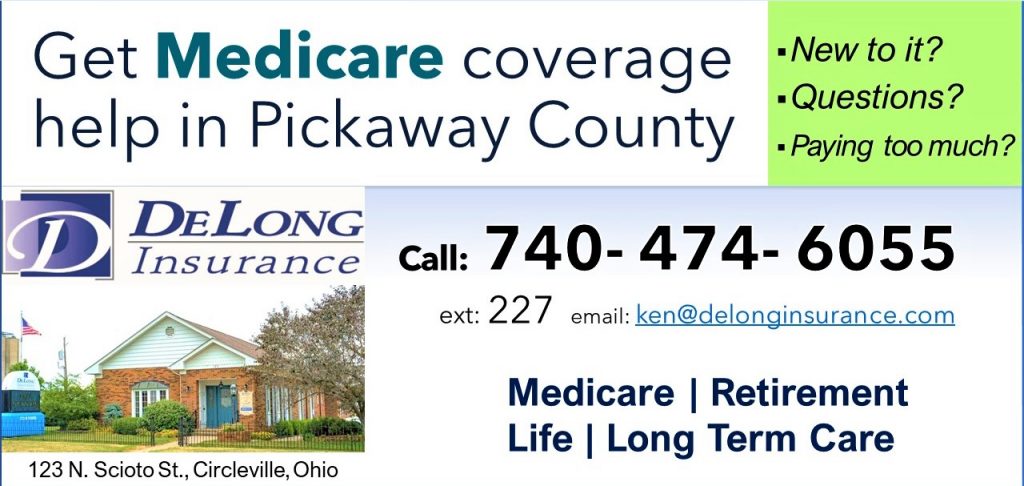 Ross County Fairgrounds — In a week, you can get rid of some of those potentially nasty household substances. The Ross-Pickaway-Highland-Fayette Solid Waste District is holding an annual household hazardous waste drop-off event at the Ross County Fairgrounds 8am to noon Saturday, September 9th.
This event is for residents of Ross, Pickaway, Highland and Fayette counties, and you must provide a driver's license or utility bill to prove your county of residency. Staff will take the items from your vehicle.
According to the district's flyer, acceptable Items are:
Lighter Fluid
Thinners
Turpentine
Adhesives
Polishes
Kerosene
Old Gasoline
Two-Cycle Gasoline
Used Oil
Vehicle Batteries
Latex Paint*
Oil-Based Paints
Aerosols
Cyanides
Acids & Caustics
Drain Cleaners
Bleach
Household Cleaners
Rat Poisons
Fluorescent Bulbs
Pesticides and Insecticides
Fertilizers
Lawn Chemicals
Antifreeze
Ni-Cad Batteries
Lithium Batteries
Alkaline Batteries
Smoke Detectors
Pool Chemicals
Pharmaceuticals
PCB Materials
Asbestos
Aluminum Paint
Reactives
Flammable Solids
Animal Repellant
Acceptable gas cylinders* include: Propane (one & 20-pound barbecue size), Fire Extinguishers, Oxygen, Carbon Dioxide (C02), Helium, Freon, MAAP gas*
* There are also a few disposal fees. Latex and water-based paint are $1 per quart or one-gallon can, and $5 per five-gallon bucket. Among gas cylinders – Freon, helium, carbon dioxide, oxygen, and others are $40 each.
Unacceptable items:
Appliances
Ammunition
Computers
Medical Waste
Tires
Trash
Air Conditioners
Refrigerators
Acetylene Cylinders
De-humidifiers
Unmarked cylinders or cylinders with broken or inoperable valves
All other type cylinders
The Ross-Pickaway-Highland-Fayette Solid Waste District has a website and Facebook page. Also, learn more abut this past annual spring tire and electronics recycling event.