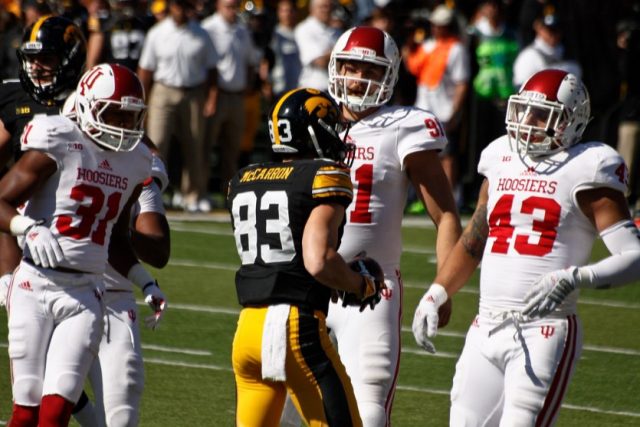 Big Ten Terrors
Last season the Big Ten had a whopping six teams in the Top 20 with Ohio State (3), Penn State (9), Minnesota (10), Wisconsin (11), Iowa (15), and Michigan (18) all residing in the conference. Therefore, there is no shame in Indiana's 5-4 conference mark and 8-5 overall record in 2019. The Hoosiers had to buckle their chinstraps and play four ranked conference foes and not surprisingly, bowed to each and every one.
Indiana was simply not equipped to battle the big boys last season but let's not forget that head coach, Tom Allen, brought the Hoosiers football program to eight wins on the season for the first time in 26 years. And with that, times could be a-changin' for the better in 2020, assuming of course the season begins on time and on schedule.
The Hoosiers recently signed South Alabama grad transfer Khameron Taylor as a solid backup to starting tight end, Peyton Hendershot. "Other than Peyton, we have a young group that needs some depth," coach Tom Allen said in a statement. "Kham is a big, strong blocker with untapped potential in the pass game. He has a great combination of size, length, and athleticism that immediately helps us become a better football team."
But Taylor is not the only transfer coming to IU this season as defensive end Jovan Swann has opted to leave Stanford and play his final college season as a Hoosier. Swann brings his 6-foot- 2, 270-pound frame to the Hoosier defensive line and will try to add to his 85 tackles and 11 ½ sacks over his 39 games as a member of the Cardinal.
"We are pleased to welcome Javon to our program," coach Tom Allen said. "Javon's a very mature, sound player who will make our team better. He brings us tremendous leadership and production."
Hoosiers Football News & Updates
Let's dispense with the news of outgoing transfer student, quarterback Peyton Ramsey, who will be playing his final season of eligibility at Northwestern. Ramsey lost his job to redshirt freshman, Michael Penix Jr, but was always ready to roll when Penix got injured, which was quite frequently, and ended the season with 2,454 passing yards, 13 touchdowns, and just five interceptions.
"I would like to thank everyone at Indiana University for allowing me to live out my dream of playing college football," Ramsey said in a statement via Twitter. "With that being said, I would like to announce my decision to continue my playing career at Northwestern University."
Tight ends coach Nick Sheridan has been promoted to offensive coordinator after incumbent Kalen DeBoer signed on to be Fresno State's head coach. Sheridan will likely use DeBoer's offensive schemes after IU's offense flourished in 2019 and statistically dwarfed the previous year in just about every category. Continuity will keep things trending in the right direction for the Hoosiers.
Speaking of offense, Michael Penix has been given the green light for practices and workouts and is reportedly 100 percent healthy for the upcoming season. In limited action, Penix completed 68.8 percent of his passes with 10 touchdowns and four picks last season. He also proved to be a dual-threat with 119 rushing yards and a pair of trips into the endzone. Despite an admirable performance by Ramsey last season in an emergency role, Penix is the real deal and if he can stay upright, Indiana's chances of an even better season in 2020 are very good. As of this writing, the NCAAF odds being dealt on Indiana's season win total is 7 ½ (-110), and the overlooks pretty good to IU fans everywhere.
Indiana Hoosiers 2020 Football Schedule & Predictions
September 4 at Wisconsin
September 12 WKU
September 19 Ball State
September 26 at UConn
October 3 BYE
October 10 Maryland
October 17 at Rutgers
October 24 Michigan State
October 31 Penn State
November 7 at Ohio State
November 14 Illinois
November 21 at Michigan
November 28 Purdue
September should end successfully despite traveling to Wisconsin to meet the Badgers in the opening week because victories over Western Kentucky, Ball State, and U Conn are pretty much locks. If the Hoosiers lose to any of those teams then they've got problems from jump street. That looks like a 3-1 opening month.
October doesn't appear to be too daunting either as we can see a home loss to Penn State with wins over Rutgers (road) and Maryland (home). The game against Michigan State on October 24 th will tell the tale of just how far this team has come. We'll give the Hoosiers the win there and watch this team enjoy a 3-1 month.
As Indiana heads into November, they will do so with a 6-2 record behind them. However, the toughest row to hoe is ahead of them. The best the Hoosiers can hope for on the road against the Buckeyes on November 7 th is to keep the game respectable because they have two chances of winning that game, slim and none – and Slim just left town.
The following week should be a rebound game in which they defeat Illinois. As the season winds down, they will meet Michigan on the road and Purdue at home. We give them a loss to the Wolverines but a win over the Boilermakers. That brings us to 2-2 in November and 8-4 on the season. Add a win in a bowl game and we've got a fine 9-4 season for Tom Allen and the Indiana Hoosiers, and we'll take it!