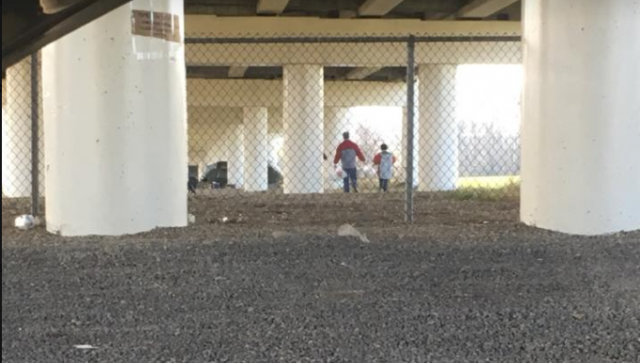 CHILLICOTHE – Penny Clifford, her friend Margie Blaney, and her daughter Kylea were traveling on Consumer Center Drive, which takes drivers underneath Bridge Street. They were driving to find a meal for themselves, but found a group of people in more need than them.
Underneath Bridge Street is a scene frequented by many homeless people, and on Thursday, November 16th, they found a group of homeless people and were prompted to action. Penny told us that when she saw the men, she thought, "How can we go eat a hot meal when its 20 degrees and we don't know if they've had a hot meal?".
Instead of going to get their own food, they decided instead to show compassion to those they saw under the bridge, and purchased them pizzas and pop from a local pizzeria. When they delivered the food, it didn't go un-noticed, as a passer-by snapped a picture of them delivering the food to homeless.
"This is way better than window shopping – helping people that need help" said Kylea, Margie Blaney's daughter. Penny stated that the people under the bridge were very grateful for the food, but also had a need for more firewood, as they were nearly running out. Not content to just give them the pizzas, the trio was able to deliver firewood, additional food, and some socks purchased by a friend for the homeless.
Not being content with helping the homeless under the bridge, the three women returned on Wednesday, the 22nd to deliver additional Thanksgiving food to them, but the homeless they met did not set up camp at the Bridge Street location.
Social media has prompted an outpouring of support for the trio whose good deeds may have gone unnoticed, if not for the passerby taking the photograph of the instance.
Anyone in Chillicothe who is homeless can call 211 for information on where to go for help in the area. The homeless camps underneath Bridge Street have not gone unnoticed by others, as it has been an area that people have helped those that are homeless during Christmas in years' past.