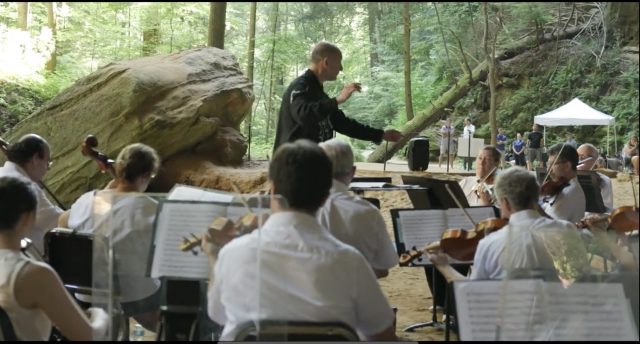 LOGAN, Ohio — Hocking Hills State Park's Ash Cave will provide the perfect acoustic setting for a performance by the Columbus Symphony Orchestra. The Ohio Department of Natural Resources (ODNR) will once again host the event on Sunday, June 18, 2023.
"This performance underscores the perfect combination of music and nature," ODNR Director Mary Mertz said. "We know this concert will strike a chord with people who love art and the great outdoors and we're ecstatic to hear the surrounding wildlife join in song with the excellent musicians of the Columbus Symphony."
Music selections will vary including light classics and pops. Event details are as follows:
WHAT:
The Columbus Symphony at Ash Cave
WHERE:
Ash Cave
Ohio 56
Logan, OH 43138
WHEN:
Sunday, June 18, 2023
3:00 PM – 4:30 PM
Tickets go on sale Monday, May 15, 2023 at 8:00 a.m. Tickets are limited and are expected to sell out quickly. General Admission for the event is just $15. General Admission attendees should bring their own chairs and blankets.
There is also a VIP ticket for $50 that includes chair seating. You can purchase tickets and read more about the event here:
https://ohiodnr.us5.list-manage.com/track/click?u=9762d9943f454cab103416c32&id=909f5f843e&e=a62e209b23
All proceeds from the event will support Ohio's 75 beautiful State Parks. You can read more and discover your State Park here:
https://ohiodnr.us5.list-manage.com/track/click?u=9762d9943f454cab103416c32&id=10eebec451&e=a62e209b23