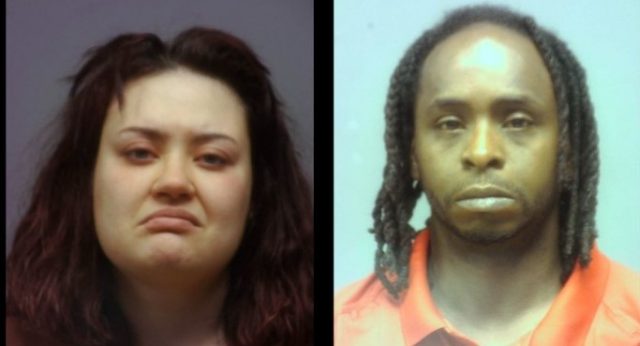 On Sunday, November 20th, the Hocking County Sheriff's Office was notified that a ten (10) month old child was taken by her mother, to the Hocking Valley Community Hospital Emergency Room, with extreme trauma and injuries.
Sheriff's Office Deputies and Detectives responded to the Emergency Room, where the mother, and her boyfriend were present with the child, while medical personnel were providing treatment. Investigators observed that the child had extensive bruising to the face and head. It was also believed that the child's skull was fractured, and she was not breathing on her own. The child was on life support, which was the only thing keeping her alive. A short time later, the child was transported by medical helicopter to Nationwide Children's Hospital Trauma Center, in Columbus, Ohio.
During their initial interview the mother Daisha L. Somers, 24 of Logan, and her boyfriend, Jerry K. Johnson IV, 33 of Columbus, stated they heard a loud "thud" in the early morning hours. They stated when they went to find out what the sound was, they allegedly found the child had fallen out of her toddler bed, and struck her head.
Neither of the individuals called 911, or requested an emergency squad, the child was taken in their personal vehicle to the hospital, several hours later.
During another interview, Johnson's story changed, and he stated he found the child unresponsive and not breathing while Somers was doing laundry at another location. During interviews, Somers admitted to smoking methamphetamine, and Johnson admitted to smoking marijuana and was intoxicated after consuming alcoholic beverages.
During the investigation, detectives were able to find that falling out of the toddler bed, was inconsistent with the trauma she had suffered. This included approximately seven (7) skull fractures, bleeding of the stomach, blood in the urine, retinal hemorrhages, multiple strokes, and prolonged cardiac arrest.
On Wednesday, November 23rd, after being on life support since being admitted, but not showing any signs of brain activity, she was declared dead. A charge of Endangering Children, a Felony of the 3rd Degree, was filed on both Somers and Johnson. They were transported to the Regional Jail where they awaited their arraignment in Hocking County Municipal Court, where Judge Frederick T. Moses issued a $500,000 cash bond for each.
Additional charges will be presented to the Hocking County Grand Jury at the conclusion of the investigation.