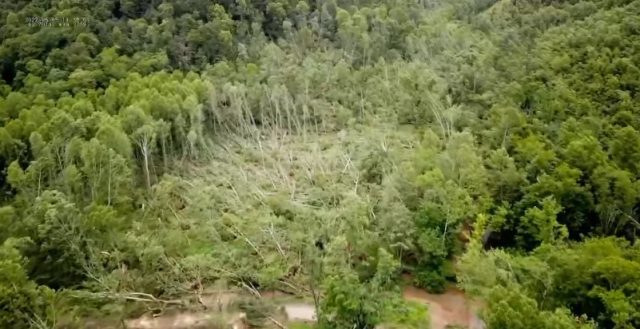 Hocking – The June 8th fast-moving storm has not only caused severe weather but also six tornados across Ohio including Hocking County
According to the National weather service, an EF tornado touched down and occurred in Hocking County Southwest of South Bloomingville. The current rating of the Tornado has yet to be determined.
Survey teams from the Weather service have already determined five other tornados were formed in the June 8th severe weather they are:
EF2 in Miami County OH.
EF1 in Darke County OH.
EF1 in Clark County OH.
EF0 in Champaign County OH
EF0 in Brown County OH
The most devastating one in Tipp City where the survey concluded a tornado touched down initially west of West Milton in open farmland, and was only loosely in contact with the ground as it traveled east through West Milton. Only minor tree damage was seen for the first few miles of the track, with the vast majority of the tree damage being broken limbs and few uprooted trees.
As the tornado moved through the Nashville, Ohio area and toward Tipp City, it began to strengthen, with EF1 category wind damage being seen to trees, power poles, and residences along West Kessler Cowlesville Road and especially near the intersection of this road and Peters Road. As the tornado approached Interstate 75, it strengthened further and directly hit several large industrial warehouse buildings on both the east side and west side of the Interstate. On the west side of the Interstate, a large warehouse suffered considerable roof damage, and a complete collapse of an exterior wall. Several empty semi trailers were overturned or rolled. The damage in this area was consistent with wind speeds of around 120 mph /EF2 damage/.
The tornado continued across the Great Miami River into rural farmland where intensity quickly decreased, with damage to trees and outbuildings being consistent to EF0 or low-end EF1 damage before the tornado is presumed to have lifted south-southeast of Casstown. The exact ending location of the tornado is somewhat lower confidence owing to a broad/intermittent and inconclusive damage path near the end of the life cycle of the tornado with very few damage indicators. It was noted that building insulation from the industrial park facilities was found several miles from where it was initially lofted.