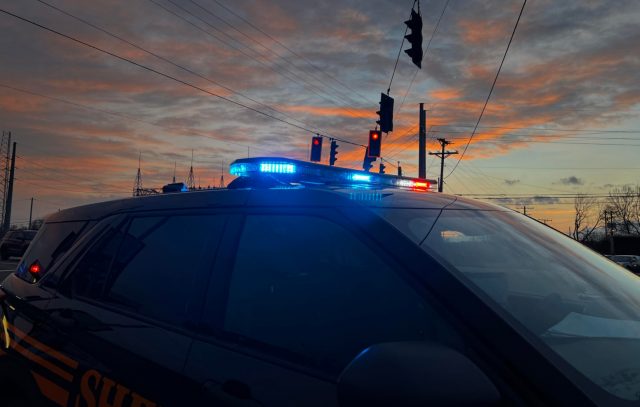 On Wednesday, March 22, the Hocking County Sheriff's Office led a group comprised of the Hocking River Commission, the Logan Code Enforcement, and the Hocking County Prosecutor's Office to address the encampment on the Hocking River bank, near the Falls Mill Bridge.
The encampment was located on property owned by private individuals, the Ohio Department of Transportation, and the Hocking River Commission, which is an all-volunteer 501(c)3 nonprofit organization dedicated to stewardship, education, and recreational use of the Hocking River.
The coordinated response was collaborative effort to address the trespassing, littering, and overnight camping, and to offer help and assistance to anyone living there who might need it. The Sheriff's Office has attempted to address the issue for several months by issuing criminal trespass warnings to individuals. For the most part, these individuals just relocate to a different area of the riverbank, or leave and return a short time later. Due to the growing size of the encampment and the health and safety risks it posed, the Hocking River Commission requested assistance from the Sheriff's Office last week to remove the individuals who were illegally camping there. The Hocking River Commission reiterated that they do not allow overnight camping on any property that they own, and that their organization had growing concerns about the safety of the conservation area for visitors and the adjacent property owners.
Several individuals were located at the encampment and were given verbal and written notice that they needed to vacate within 48 hours, or they would be subject to criminal charges or arrest. The criminal trespass warning notices were also posted in, and around the area of the encampment.
All of the individuals that deputies spoke with were provided with information on local assistance programs to help with their drug addiction and homelessness. Two individuals were found to have outstanding warrants for their arrest, and were taken into custody without incident. On Friday, March 24, after the 48-hour period had elapsed, the Hocking County Sheriff's Office went back to the encampment and made four arrests for criminal trespass. These individuals were ones that deputies had contact with on Wednesday, and they had made no attempt to leave or gather their belongings in an effort to do so. These individuals had also received several of the previous trespass warnings in the past.
A collaborative clean-up project will take place soon to clean up the tents, accumulated trash, and human waste, and restore the riverbank and conservation area to its natural beauty for visitors to enjoy.