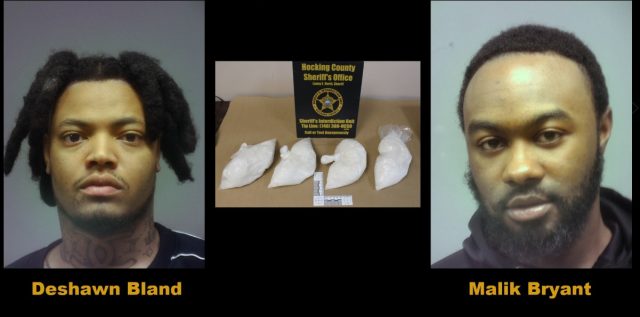 Hocking – On Wednesday, February 1st, Hocking County Sheriff's Interdiction Unit Detectives stopped a vehicle for several traffic violations on US Route 33, between State Route 93 and State Route 328.
Detectives were able to establish probable cause to search the vehicle. During the search, detectives located over 4 pounds of suspected methamphetamine.
Deshawn Bland, 25 of Columbus, and Malik Bryant, 25 of Warren, were interviewed and placed under arrest.
Both were charged with Aggravated Trafficking in Methamphetamine, a Felony of the 1st degree.
They were transported and held at the Southeastern Ohio Regional Jail to await their initial arraignment in Hocking County Municipal Court. At their arraignment, Hocking County Municipal Court Judge Frederick T. Moses gave both a $500,000 cash or surety bond.
This seizure amount is over 500 times the bulk amount of methamphetamine, which could result in the suspects being indicted by the Hocking County Grand Jury with a Major Drug Offenders (MDO) specification. The MDO specification comes with enhanced, and mandatory, prison terms, if ultimately convicted of the offenses.
This case remains under investigation and will be later presented to the Hocking County Grand Jury.