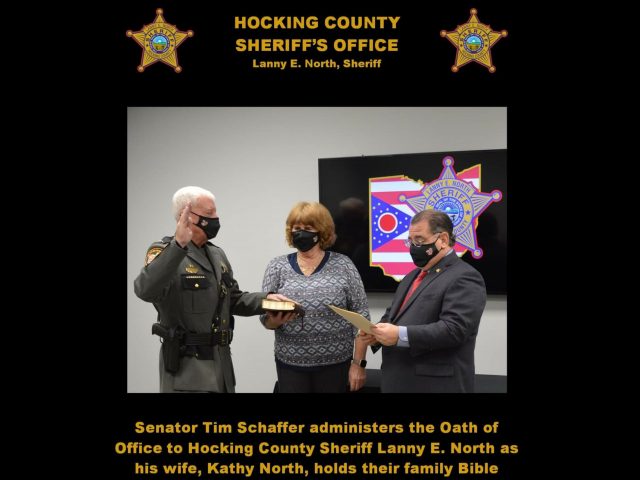 Hocking County OH- On Wednesday, December 23rd, Ohio Senator Tim Schaffer administered the Oath of Office to Hocking County Sheriff Lanny E. North. Upon taking his Oath of Office and entering his sixth term as Sheriff, North set a record, becoming the longest serving Sheriff in Hocking County history.
North has a long history of being a public servant, after being honorably discharged from the United States Army, and graduating the Ohio State Highway Patrol 97th Academy Class, North began his service to the residents of Hocking County in 1975 as a deputy sheriff appointed by Sheriff Paul "Puffy" Hartman.
In 1977, Sheriff Paul "Hap" Thrush promoted North to Shift Commander and then to Chief Deputy in 1979, a position that he held until 1992 when he accepted a position with the Franklin County Sheriff's Office.
While working for the Franklin County Sheriff's Office, North was assigned to both the patrol division and investigative division, until he resigned from there in order to run for election as Hocking County Sheriff in 2000.
North won the election in 2000, after the retirement of Sheriff Jim Jones. Jones, at that point, held the record of longest serving Sheriff of Hocking County, completing five terms from 1981 until 2000.
When North assumed Office, he had less than 20 employees, which included deputies, jailers, dispatchers and civilians; today, North commands a staff of nearly 60 personnel.
North has grown the Hocking County Sheriff's Office into the respected and accredited professional law enforcement agency it is today.
He has expanded the Office into nine different divisions and their various units; the Administrative Division, the Patrol Division, including the Canine Unit, Motorcycle Unit and the Village of Laurelville Patrol Unit, the Investigative Division, including the Detective Bureau and the Sheriff's Interdiction Unit, the Court Services Division including the Prisoner Transport Unit and Court Security Unit, the Dog Warden Division, the School Resource Officer Division, Mental Health Services Division, Victim Advocate Division, and 9-1-1 Emergency Communication Center.
During his tenure in Office, North has been able to bring the Hocking County Sheriff's Office into the 21st Century and expand the ways it serves the residents and visitors of Hocking County. Through various local, state and federal grants and programs, North has secured over $2.9 million dollars to bring technological advancements to his agency.
At the conclusion of his sixth term, North will have half a century of devoted public service in law enforcement. However, he doesn't plan on hanging up his uniform and gun belt and will seek reelection for the Office of Hocking County Sheriff in 2024.
Lanny E. North, Hocking County Sheriff; a Continuing Legacy of Service.
Serving with Honor, Protecting with Pride.