Hocking County OH- Hocking County Sheriff Lanny E. North is pleased to announce the formation the new Motorcycle Unit within the Sheriff's Office. The unit was formed when the Hocking County Sheriff's Office acquired two fully equipped and outfitted Harley Davidson Electra Glide motorcycles from the Delaware County Sheriff's Office after they recently disbanded their motorcycle unit.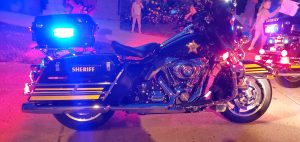 The two motorcycles came to Hocking County fully equipped with emergency lights and sirens, radar units and laptop mounts in the trunks. Delaware County Sheriff's Office also supplied helmets, communication systems and supplies to maintain the units.
Sheriff North plans have his deputies use the motorcycles for a multitude of missions. They will not only be used for patrol functions such as traffic enforcement, traffic crash investigations, and escorts, but also education, special events, parades, and community relations.
Hocking County is one of the top tourist destinations in the State of Ohio. Due to the beautiful scenery, thousands of motorcycles visit the county every year. Due to that, since 2016, Hocking County has experienced nearly 90 motorcycle crashes, 75 have resulted in injuries and 7 of them have resulted in a fatality.
We hope that having these motorcycles on patrol and riding among the touring motorcyclists will help reduce the numbers of crashes we have within the county.
Sheriff North stated: "We acquired the motorcycles earlier this week, and we wanted to deploy them as soon as possible to take advantage of the beautiful weather before it is gone for the year."
"We've already sent our deputies to several of the elementary schools to put on demonstrations for students, and sent them out on a couple community events within the county. The motorcycles have been extremely well received wherever they have gone; the engagement from the public is really why we felt this was a good direction for our Office to go in."
"The deputies patrolling on them have reported receiving people waving at them and giving them a 'thumb-up' every time they have gone out on patrol."
"We encourage anyone hosting a special event or poker run let us know so we can have the motor deputies out for them."
These motorcycles were purchased without requesting an increase to the Sheriff's Office budget. A specialized grant targeted at traffic enforcement will be obtained by the Sheriff's Office and will provide funding to pay for overtime for deputies to combat traffic violations which contribute to crashes, such as speeding, distracted driving and reckless driving.