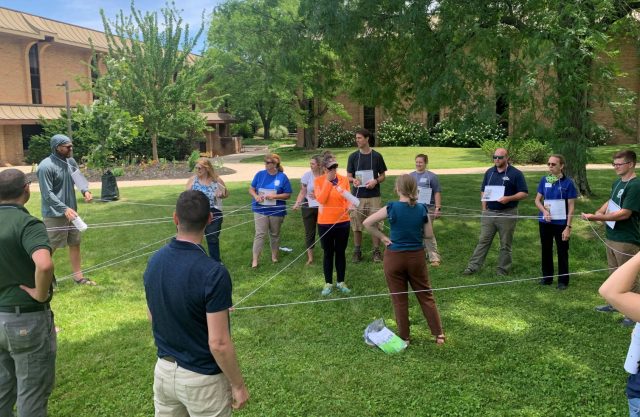 COLUMBUS, Ohio –The Ohio Department of Natural Resources (ODNR) Division of Forestry invites teachers to join them for the 18th annual Teacher Field Days, to be held at Hocking State Forest on June 15-16, 2023.
 
"The Teacher Field Days event is designed to get teachers engaged with forests and inspire them to incorporate forest-centric curriculum into their classrooms," said ODNR Division of Forestry Chief Dan Balser.
 

2022 Teacher Field Days participants practice a Project Learning Tree activity called "Web of Life,"
which can be duplicated with students in a classroom or other educational settings.
 
The theme for this year is "Stranger Things in the Woods" where educators will learn from experts about many of the oddities found in forests. Session topics will include symbiotic relationships, mushrooms, tree galls, and insects, and there will also be an interpretive day hike, a night hike (owl calls, history, ghost stories, moths, bats), and a Project Learning Tree (PLT) Pre-K-12 Educator Workshop.
 
The field day includes PLT activities that can be used in educational settings. PLT is an environmental education program that is part of the Sustainable Forestry Initiative and is sponsored in Ohio by the Ohio Division of Forestry. It focuses on getting students engaged in their environment and invested in their forests, and it is a great resource for an educator's toolbox. Find more about PLT here.
 
Registration is required for the Teacher Field Days. There is a one-time $25 mail-in non-refundable pre-registration, which includes lunches. The deadline for registration is June 2.
 
To register, click here. The registration process is first come, first served. PLT books are provided by the Ohio Division of Forestry. Teachers who participate and complete a follow-up assignment are eligible to purchase graduate credit.
 
The Ohio Division of Forestry's Teacher Field Days have served hundreds of educators, and thousands of students have benefited from the information they have gained. For more information or questions, email [email protected].