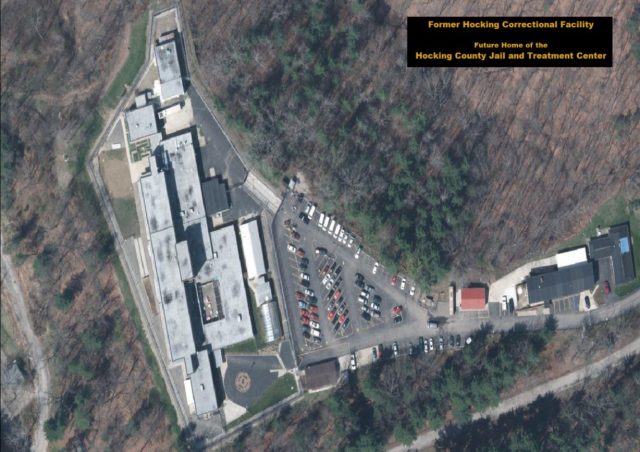 HOCKING – Governor Dewine has been announcing funding for several prisons for either rebuilding or expansion of facilities.
In October Dewine announced 50 million in funding for six local jails
Coshocton County – $10.1 million
Gallia County – $5.5 million 
Harrison County – $9.1 million 
Lawrence County – $16.8 million 
Two multi-county jails are receiving funding to expand their facilities to better serve neighboring counties:
Scioto County Jail – $1.5 million 
Southeastern Ohio Regional Jail – $1.9 million  
During a press conference yesterday Dewine announced a total of $12 million dollars for the renovation project at the Hocking Correctional Facility. The facility will be repurposed into a full-service jail and drug treatment center which will focus on female offenders which will be operated by Hocking County.
Sheriff North stated "This truly is an amazing opportunity for Hocking County and all of southeastern Ohio. Not only the ability to have additional jail space for inmates, but also offer real and meaningful help to those struggling with addiction is something we never thought possible, or financially feasible, for Hocking County to provide. I would like to thank Governor DeWine, DRC Director Annette Chambers-Smith for their investment of $12 million dollars in our region, and thank all of the dedicated individuals who have put in countless hours of work to make this conception a reality."
Judge Moses said "The hard work, dedication, and cooperation of many agencies and groups, both inside and outside of the criminal justice system, have brought this tremendous opportunity to Hocking County. The $12 million dollars in funding will allow the county to better serve the public, create jobs, and provide the much-needed recovery services in our area. This is a once in a lifetime opportunity and we are grateful to Governor DeWine and Director Chambers-Smith for believing in Hocking County's vision of a brighter future for those involved in the criminal justice system."
The proposal which was submitted to DRC was a very unique one, something that Ohio had not seen before; a full-service jail and a drug treatment facility meshed together, and operating as an ecosystem with one another.
The full-service jail would provide the additional jail space for inmates that the region is in dire need of, but also offer drug recovery, mental health programs and vocational training to truly help rehabilitate offenders, rather then just have them sit in jail.