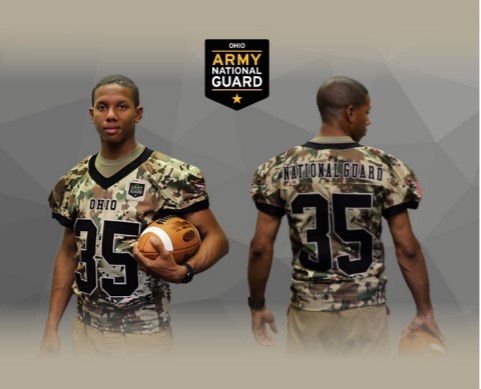 OHIO – Ohio High School football teams will pay respect to 9/11 this weekend by wearing Ohio Army National Guard camo jerseys.

"Members of Ohio's Army National Guard serve selflessly in support of our country, and we've seen fantastic enthusiasm from local high schools wanting to recognize these Citizen-Soldiers during their high school football games," said Ohio Gov. Mike DeWine. "I encourage football fans to show their appreciation for the Ohio Army National Guard as they cheer on the players during these special military appreciation games throughout the state."

"We have had a tremendous response from schools requesting the jerseys, and the schedule is filling in quickly," said Sgt. Maj. Justin Sprankle, senior enlisted Soldier assigned to the OHARNG Recruiting and Retention Battalion. "The National Guard has a mission to serve its local communities, so we're happy to provide this resource to schools interested in recognizing
our service members."
Over the years, several coaches have asked if we can provide military jerseys for their teams to wear, and we've never been able to support those requests. This year, with the help of OHSFCA, we are able to provide them through the National Guard Game of the Week program," Sprankle said.
At least 17 teams across Ohio will be wearing these special jerseys this weekend they are:
• Anthony Wayne
• Bloom-Carroll
• Elgin
• Franklin Heights
• Jackson-Milton
• Nelsonville-York
• Norwood
• Ridgemont
• Rossford
• Seneca East
• Steubenville
• Stryker
• Troy
• Valley View
• Waterloo
• Waynesville.

Since 2011, the OHARNG has been supporting schools hosting military appreciation games through a program called Operation Buckeye Guard, which was initiated through a partnership with the Ohio High School Football Coaches Association (OHSFCA). Schools can request the
OHARNG's support for American flag helmet decals, school-branded patriotic banners, a military static display, a Soldier to conduct the coin toss, or inflatable tunnels and smoke machines for player introductions.