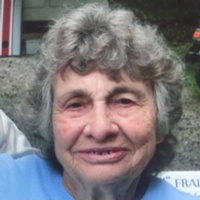 September 08, 1924 – August 29, 2017
Gusta Marie Tackett Fraley, our beautiful mother, wife, grandmother, sister, aunt, and friend to many left this world for her heavenly home as a rainbow appeared in the sky at 7:00 pm Tuesday August 29, 2017.
She was born September 8, 1924, in Magoffin County, KY, to the late James and Mary (Penix) Tackett. On December 8, 1938, she married John James Fraley, who preceded her in death on September 15, 1989.
Surviving is a brother, Ossie Tackett, and her nine children all because two people fell in love, Janet Rickabaugh, Edna (Bob) Brandt, Phyllis (Roy) Smith, Pamela (Howard) Coder Sr., Karen (Neil) Coey, Melodye (Tom) Coey, John (Sharon) Fraley, Mark (Sheri) Fraley, and Tony (Julia) Fraley.  Dad always said, "Look what we started". Grandchildren, Roger (Vicki) Rickabaugh, Robin (Jeff) Montag, Marie (Peter) Svintsitsky, Jennifer Warren, Christine (Christopher) Burkhart, Dawn (Roger) McDaniel, James (Charlesa) Smith, Shannon (Mike) Connell, Becky Smith, Erin (Charles) Martin, George (Jennifer) Stone, Toni (Josh) DeTillion, Leah (Marty) Park, Eric (Samantha) Coey, Jason Coey, Amy (Russell) Hall, John Andrew (Holly) Fraley, Brett (Danielle ) Fraley, Tera (Tyler) Wireman, Christopher Fraley, Brooke Fraley (Fiance' Matt Miller), Jessica (Steve) Berk, and Bradley Fraley; Great-grandchildren, Kenny (Jennifer) Rickabaugh, Mark & Melody Montag, Amanda(Joe) Hamilton & Ryan Bernhardt, Joseph (Stephanie) Brandt, Sarah & Stephen McGuire, Jackson & Julia Burkhart, Timothy & Bethany McDaniel, Olivia, Matthew, Andrew Smith, Robert Lucus II, Andrew & Aiden Connell, Charlie, Dakota, Kaitlin & Ashleigh Martin, Kirsten Proehl, Natasha (Latrail) Bowman, Kenneth Hatfield III, Lacey Hatfield, Emily, Caleb, Josiah & Havenly Stone, Alexis, Lillian, Isabelle, & Ricky DeTillion, Neilsen, Tye, Asa, & Forrest Park, Leighton, John, Joshua & Lauren Coey, Madison, Sophia, Ethan, & Baby Hall, Alexander & Fiona Fraley, Carli & Maxwell Wireman, Jace & Mila Fraley, and Willow Hamilton; and Great-great-grandchildren, Anya, Alexander, Amalina Svintsitsky, Elijah & Jeremiah Brandt, Jeremiah Bowman, and Evelayna Proehl, as well as many wonderful brothers and sisters in Christ. In addition to her parents and loving husband John of 51 years, Gusta was preceded in death by three infant sons, brothers, Tommy, Ashford, and Harlin Tackett, special sister-in-law Edith Tackett, sons-in-law, Roger Rickabaugh and Thomas Eisnaugle, and grandchildren, Tracey Rickabaugh Rhodes, Kenneth Hatfield Jr. and Sabrina Lynn Fraley.
Gusta was a  member of the Poe's Run United Baptist Church, where she served as a deacon's wife. Her main focus in life was being a faithful servant of the Lord, and tending to her family. She loved raising children and enjoying all of the grandchildren, great-grandchildren, and great-great-grandchildren. In her free time she was an avid seamstress who loved sewing outfits, costumes, and making quilts. She was known for her beautiful flowers, gardening, cooking, canning, and her woodworking skills. She also enjoyed getting her exercise in by walking laps in her "big room".
A funeral service will be held at 11:00 pm on Saturday, September 2, 2017, at the Haller Funeral Home. Burial will follow in Little Mound Cemetery, Richmondale. A visitation will be held from 4:00-8:00 pm on Friday at the funeral home. In lieu of flowers, memorial contributions can be made to the Sabrina L. Fraley Memorial Scholarship Fund, c/o Kingston National Bank, P.O. Box 613, Kingston, OH 45644.
The family would like to give special thanks to Caroline Eisnaugle, Poes Run United Baptist Church, Kathleen Villarreal MD,  Adena Health Systems, Heartland Nursing Home & Heartland Hospice and all who cared for our wonderful mother during her journey home.