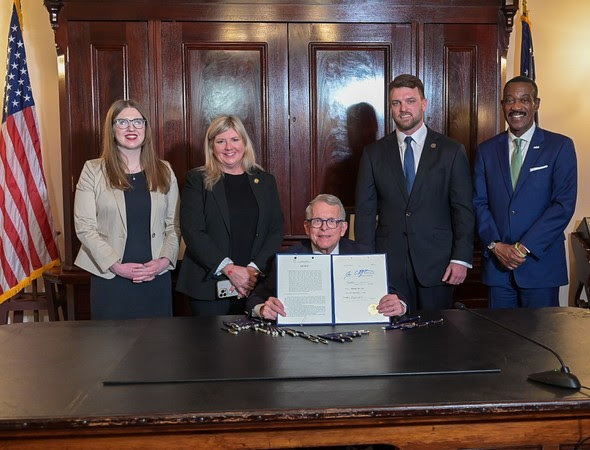 COLUMBUS, Ohio)—Ohio Governor Mike DeWine joined Ohio Department of Transportation (ODOT) Director Jack Marchbanks and members of the Ohio House of Representatives and Ohio Senate today to sign House Bill 23, the state's next two-year transportation budget.  
The bill, which takes effect July 1, directs how the state will spend approximately $13.5 billion in state and federal revenue over the next two years. House Bill 23 also implements a series of changes aimed at improving public safety and making Ohio a great place to do business.
"Safety remains the priority in everything we do," said Governor DeWine. "I'm thankful for the partnership of the Ohio General Assembly in strengthening safety requirements for railroads, supporting the historic Brent Spence Bridge Corridor project, and investing in transportation projects that make our state safer and a better place to do business."
---
Highway Safety and General Road Improvements
---
Under the direction of Governor DeWine, Ohio has expanded its safety program to lead the country in safety spending per capita and is the fourth largest in total spending on transportation safety in the country. The new budget includes $360 million over two years in dedicated highway safety funding that will be used to address dangerous intersections, make travel safer for bicyclists and pedestrians, and help local governments fund critical projects.
"I applaud the Governor and the Ohio General Assembly for continuing to prioritize safety in this transportation budget," said ODOT Director Dr. Jack Marchbanks. "Our mission is to provide for the safe and easy movement of people and goods from place to place and this budget gives us the funding we need to do that."
House Bill 23 also provides nearly $7.5 billion for ODOT to use for state highway improvements. This includes more than $2.2 billion for pavement upgrades, $700 million for bridge improvements, $964 million for local government programs and projects, $200 million for transit, and $579 million for major projects funded by the Transportation Review Advisory Council.
---
Rail Safety
---
The train derailment in East Palestine last February made clear the need to further regulate railroad operations in Ohio. House Bill 23 includes new measures to target increased safety and transparency of Ohio's freight and hazardous materials shipping by rail.
Provisions in the bill require two-person crews on trains and strengthen requirements for wayside detectors, which are rail devices that can detect problems in passing trains. These changes in state law will ensure that railroads operating in Ohio are following the best practices in monitoring railroad equipment and will assist the state with holding railroads responsible for their actions.
---
Economic Development
---
House Bill 23 includes several measures aimed at preparing Ohio for future investment and growth. This includes $30 million in Roadwork Development Grants through the Ohio Department of Development and $10 million for a transformative statewide transportation study.
The Roadwork Development (629) Grant program provides funds for public roadway improvements, including engineering and design costs. Funds are available for projects primarily involving manufacturing, research and development, high technology, corporate headquarters, and distribution activity. Projects must typically create or retain jobs. Examples of recent projects include supporting growth at Amazon Data Services, Sherwin-Williams, Macy's, and Advanced Drainage Systems.
ODOT will also work in collaboration with the Ohio Department of Development and the Governor's Office of Workforce Transformation to complete a $10 million transportation study. This study will look at where Ohio's population is projected to grow, where Ohio's workforce is expanding, and what Ohio's projected transportation system needs will be over the next 10, 20, and 30 years.
This study will help the state identify gaps, prioritize needs, and make actionable recommendations for the future of Ohio's transportation network. The study will identify needs all over the state, including between Toledo and Columbus.
---
Brent Spence Bridge Corridor
---
Approximately $3 billion in House Bill 23 appropriations are designated for the Brent Spence Bridge Corridor Project. The project is set to begin construction by the end of year to transform travel to and through Cincinnati.
The anticipated total project cost is $3.6 billion, which will be shared by Ohio, Kentucky, and the federal government. Because Ohio is the lead agency in managing the contract, Ohio's transportation budget contains the appropriation authority for the entire project, but the actual payments will divided among the states and federal government.
---
Governor DeWine did not veto any provisions in House Bill 23.