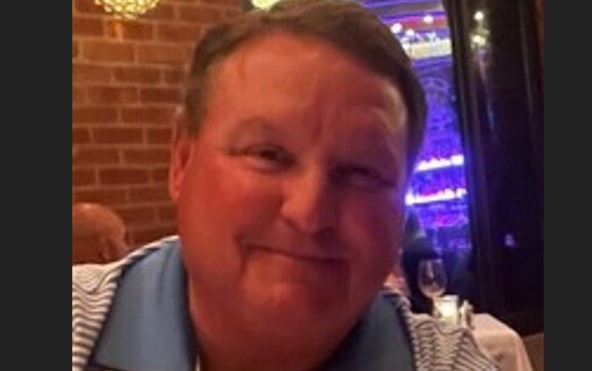 Gary K. DeMastry, age 66 of Lancaster, passed away on December 31, 2021 at Fairfield Medical Center. He was born in Columbus on July 6, 1955 to the late Leo J. and Constance (Ruhl) DeMastry. Gary was a graduate of Fisher Catholic High School, class of 1973. He was a member of St. Bernadette Catholic Church, Knights of Columbus and a former board member of The Lighthouse.
Gary proudly served as Chief Deputy and Sheriff of Fairfield County from 1981 to 2000. He enjoyed coaching many youth sports, especially his grandchildren. Gary loved to golf and was an avid Duke basketball fan. He always made sure to tell people he made an appearance in the movie, A Better Way to Die.
Gary is survived by his wife of nearly 44 years, Penny (Tobin); daughter, Nicole (Mark) Kolikohn; grandchildren, Meadow and Kody Pugh, Chase and Olivia Kolikohn; sisters, Sandra (George) Foss, Melanie (Doug) Pollard; sisters-in-law, Becky (Gary) DeMastry-Hughes, Paula (Jim) Moody, and Peggy Behrens; brother-in-law, Phil (Anna) Tobin; as well as many nieces and nephews.
In addition to his parents, he is preceded in death by his brother, Leo Dennis DeMastry, step-mother, Madge A. DeMastry, father-in-law and mother-in-law, John and Phyllis Tobin, and sister-in-law, Pam Perrault.
Mass of Christian Burial will be held at 10:30 a.m. on Friday, January 7, 2022 at St. Bernadette Catholic Church with Fr. Tyron Tomson as Celebrant. Burial will follow in St. Mary Cemetery. Visitation will take place on Thursday, January 6, 2022 from 3:00 – 8:00 p.m. at SHERIDAN FUNERAL HOME, with a vigil service at 7:30 p.m.
In lieu of flowers, memorial contributions may be made to The Lighthouse Domestic Violence Shelter of Fairfield County, Ohio.
The family would like to extend a special thank-you to the staff of Fairfield Medical Center I.C.U. and Dr. Bruce, Dr. Tencza, and Dr. Twehues.
To send an online condolence and sign guestbook, please visit www.sheridanfuneralhome.net and click obituaries.