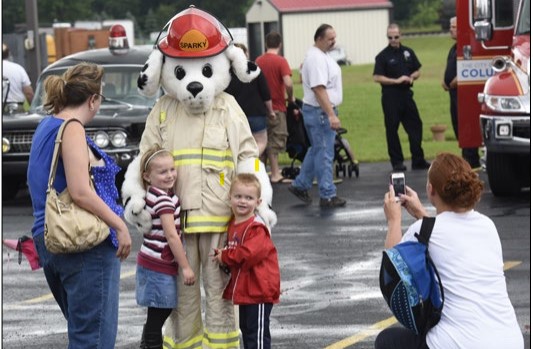 The Ohio State Fire Marshal will host its Ohio Fire Marshal Festival this year in Reynoldsburg (Licking County). This event will be from 10 a.m. to 3 p.m. on Saturday, Sept. 10th at 8895 E. Main St, Reynoldsburg, OH, 43068, and it will contain a variety of activities catering to all ages.
"We are so excited for this year's festival," said State Fire Marshal Kevin Reardon, "Our grounds are secure the other days of the year so it's a great opportunity for families to come out and see all the important things we do here and have a good time."
The festival is a celebration of the courageous work of Ohio's firefighters and the important work the Ohio Department of Commerce's Division State Fire Marshal does to 'Protect What Matters Most' to Ohioans. In addition to the educational programming, activities will include a full program of demonstrations, training, and experiences all scheduled throughout the day.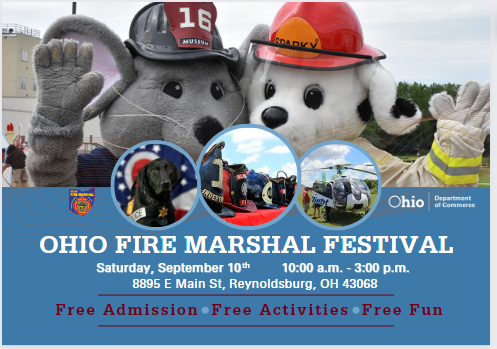 A few exciting elements of the festival will include helicopter landings, K-9 fire dog training exercises, food trucks, fire apparatuses, fire safety demonstrations, and entertainment with a focus on education, safety and fun, interactive experiences. Children will be able to participate in an assortment of activities including a magic show, face painting, bounce houses, balloon twisting, and a kiddie combat challenge with water hoses.
State Fire Marshal Fire Prevention Bureau Chief and event organizer Ken Klouda said, "This is the right event to finish off the summer season and send us into fall. It's family-friendly, entertaining, and informative; a perfect combination. Come out and spend the day with us."
The festival also serves as a thank-you to all Ohio Fire Academy alumni, and they are invited back to campus to explore the growth of the Academy and to see the exciting plans for future improvement. Join the Ohio State Fire Marshal and the Ohio Department of Commerce for an exciting and enjoyable day that will entertain the whole family.