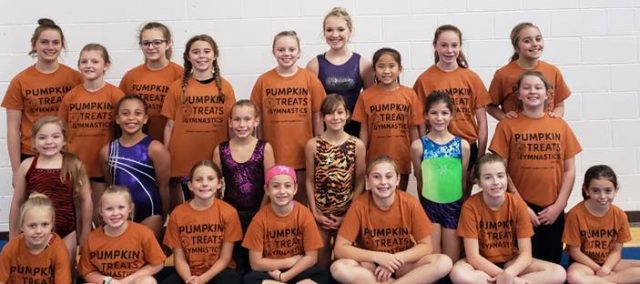 One hundred female gymnasts gathered at the Pickaway County Family YMCA on November 2 to participate in the first ever "Pickaway Pumpkin Gymnastics Classic" invitational meet. Competition took place on a variety of gymnastic levels, skills and ages with youth from four different gyms: Licking County Family YMCA, Mt. Vernon YMCA, Versailles Flying J's Gymnastics and the host team, Pickaway County Family YMCA.
"It was a wonderful opportunity for our girls to kick off the competition season as the host of a successful invitational and we hope to make Pickaway Pumpkin Gymnastics Classic an annual event." said Katy Blubaugh, head coach of the Pickaway County Family YMCA Gymnastics Team.
The Pickaway County team used the event to raise money to support the Pickaway LIVESTRONG at the YMCA program, a 12-week physical activity program designed to get cancer survivors back on their feet. The Pickaway County Family YMCA Gymnastics Team travels to Cambridge, Ohio on November 16 for their next league meet and will be back home in Circleville for a meet on December 21. The Pickaway County Family YMCA offers both weekly gymnastics classes and a competitive team. Interested parents or guardians can contact the YMCA at 740.477.1661.