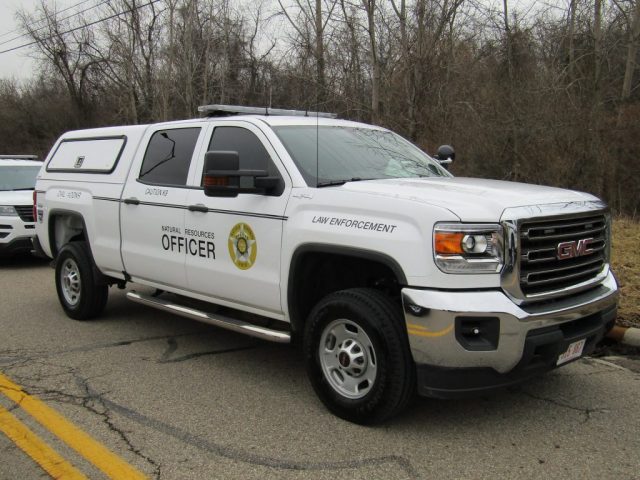 Field reports from Ohio Division of Wildlife Officers 
Central Ohio – Wildlife District One
State Wildlife Officer John Coffman, assigned to Fayette County, received word that an angler was lost at Deer Creek Wildlife Area. Officer Coffman determined the caller's location based on his proximity to trees marked with orange paint for the annual acorn mast surveys. Officer Coffman notified Deer Creek Wildlife Area Technician Justin Coffman, who returned the angler to his vehicle with a UTV.
State Wildlife Officer Austin Levering, assigned to Knox County, recently received a complaint of an individual trespassing on private property. Officer Levering determined that the suspect was hunting wild turkeys without permission during the closed season and did not have a turkey permit or hunting license. Officer Levering issued summonses for hunting without permission and hunting during the closed season. The individual paid $305 in fines and court costs.
Northwest Ohio – Wildlife District Two
On the opening day of the 2022-23 white-tailed deer gun hunting season, Wildlife Officer Supervisor Kevin Russell and State Wildlife Officer Ryan Burke, assigned to Hancock County, contacted hunters. One individual who had just finished a deer drive was found to not have a valid deer permit. He was issued a citation for hunting deer without a deer permit and paid $175 in fines and court costs through Findlay Municipal Court. Later that afternoon, the officers contacted another group of hunters. One individual in that group had a valid deer permit but did not possess a hunting license. He was issued a citation and paid $250 in fines and court costs through Findlay Municipal Court.
State Wildlife Officer Matt D. Smith, assigned to Huron County, and Wildlife Communications Specialist Abby Ditomassi presented a program on bald eagles to more than 200 4th-grade students at the Huron County Fairgrounds for the Huron Soil and Water Conservation District's Conservation Day. The program included information on the physical traits, reproductive cycle, nests, and biology of the bald eagle.
Northeast Ohio – Wildlife District Three
In 2022, State Wildlife Officers Scott Cartwright, Craig Porter, and Nick Turner, assigned to Carroll, Jefferson, and Harrison counties, respectively, responded to complaints of hunters pursuing coyotes without permission. The officers contacted a group of hunters with dogs and found the suspects had hunted coyotes on several properties where they did not have permission to hunt. The suspects were found guilty in Carroll County Court. Each was ordered to pay $1,770 in fines and court costs and serve 15 hours of community service. They were each sentenced to 60 days in jail and a two-year hunting license revocation, suspended on condition of no violations for two years.
In December 2022, State Wildlife Officer Tom Frank, assigned to Mahoning County, responded to a Turn-In-a-Poacher (TIP) complaint regarding a hunter not wearing orange during the white-tailed deer gun hunting season. Officer Frank located the hunter, who was carrying a loaded rifle. The suspect fled but was later detained and found to be prohibited from possessing a firearm. The suspect was found guilty and paid more than $600 in fines and court costs. Additionally, the suspect forfeited the firearm and received two years of probation.
Southeast Ohio – Wildlife District Four
In April, State Wildlife Officer Tyler Fields, assigned to Scioto County, and State Wildlife Officer Darin Abbott, assigned to Lawrence County, conducted fishing license compliance checks at Greenup Dam. The officers contacted two anglers who did not have valid fishing licenses. Officer Fields issued summonses to each angler for fishing without a resident license, the first summonses issued by the new wildlife officer.
Southwest Ohio – Wildlife District Five
State Wildlife Officers Brad Turner, Jason Keller, Isaiah Gifford, Andrew Dowdell, and Gus Kiebel, assigned to Preble, Warren, Clinton, Butler, and Adams counties, respectively, as well as Law Operations Manager Eric Lamb worked at East Fork Lake in Clermont County over the Memorial Day weekend. The officers contacted approximately 70 anglers both along the shore and on the water. Five summonses were issued for fishing without a license and two summonses were issued for harvesting fish shorter than the minimum length requirement.
State Wildlife Officer Trent Weaver, assigned to Montgomery County, attended a Touch-a-Truck event with more than 700 people in attendance. Touch-A-Trucks are free hands-on family events where kids young and old can touch, interact with, and learn about community vehicles, from fire trucks and police cruisers to construction equipment, dump trucks, school buses, and more. Officer Weaver showcased his patrol vehicle and spoke about the duties of state wildlife officers.