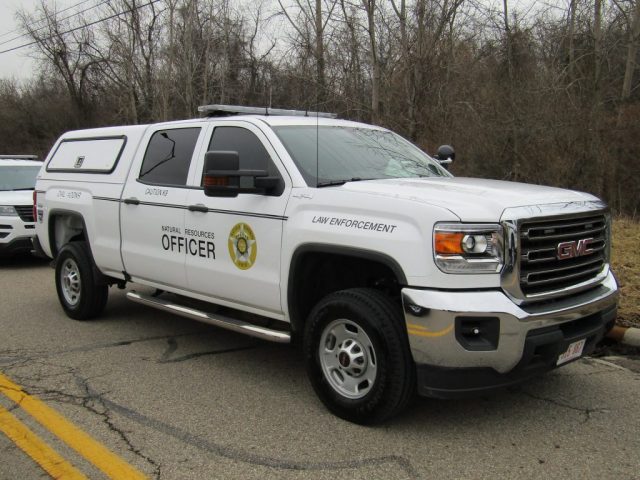 OHIO – Reports from Wildlife officers in and around Ohio
Central Ohio – Wildlife District One 
State Wildlife Officer Matt Teders, assigned to Madison County, and Wildlife Investigator Kandy Klosterman received a Turn-In-a-Poacher (TIP) report of an untagged white-tailed deer buck at a meat processor. Officer Teders discovered that an employee of the business had harvested several deer and brought them to the business with fictitious tags. The officers seized venison and antlers from the business and a crossbow and rifle from the suspect's residence. The suspect was found guilty of six charges, including falsifying a deer tag, failing to game check two deer, hunting deer without a permit, taking more than one antlered deer in a season, and using an unlawful rifle caliber. The individual paid $4,693.40 in restitution, fines, and court costs, had hunting privileges suspended for two years, and forfeited deer parts and hunting implements. In addition, the individual will be added into the Wildlife Violator Database and may have hunting privileges revoked in additional states.
State Wildlife Officer Supervisors Bill Bullard and Tony Zerkle, as well as State Wildlife Officers Jade Heizer, Antoinette Freet, Josh Elster, Brian Motsinger, John Coffman, Brad Kiger, and Nick Oliver, assigned to Fairfield, Licking, Pickaway, Union, Fayette, Franklin, and Champaign counties, respectively, attended a youth event at the Johnstown Community Sportsman's Club hosted by the Southeast Ohio Chapter of Pheasants Forever. The event brought in more than 250 participants. The officers provided instructions on shotgun and archery shooting, tree stand safety, and fishing. The annual event is open to all youth and is a collaboration of multiple clubs and organizations across the state. The event consisted of over 30 stations where participants had the opportunity for hands-on experience with equipment and tools used for hunting, trapping, angling, and wildlife conservation.
Northwest Ohio – Wildlife District Two
During the recent walleye run, State Wildlife Officer Matt Smith, assigned to Henry County, patrolled the Maumee River near popular fishing areas. Officer Smith observed an angler snag a fish and add it to his stringer. In Ohio, accidentally snagged fish must be unhooked and released immediately. Officer Smith contacted the man, confiscated the illegally caught fish, and issued a summons. Fines and court costs totaled $137 for the offense.
In March, State Wildlife Officer Ryan Burke, assigned to Hancock County, observed a truck and SUV on the side of the road. Officer Burke spoke with the driver of the truck and learned from him that the SUV, his wife's, had moderate damage from a crash earlier in the day. The man was waiting on a tow truck for the SUV, but the vehicle's keys had been lost in the roadside ditch. After a few minutes of searching and probing in the flooded ditch, Officer Burke found the keys to the vehicle. The man was extremely gracious for the officer's assistance.
Northeast Ohio – Wildlife District Three
State Wildlife Officers Zach Hillman and Evan Huegel, assigned to Cuyahoga and Ashland counties, respectively, were dispatched to a complaint of coyote hunting without permission on private property. The officers used a photograph to locate one individual. The suspect was issued a misdemeanor summons for hunting without written permission. He was found guilty and ordered to pay $250 in fines and court costs.
State Wildlife Officer Scott Cartwright, assigned to Carroll County, and Wildlife Research Technician Laurie Brown were asked by the Carroll County Soil and Water Conservation District to write the wildlife test for the Area 3 Envirothon. The Area 3 Envirothon is an academic competition open to high school students from 16 Ohio counties. They composed the test in partnership with the Herps Alive Foundation and Gryphon's Den Creatures of the Night, Inc. The test incorporated live animals, migratory bird wings, and mammal pelts and was administered at Bluebird Park in Carroll County.
Southeast Ohio – Wildlife District Four
In early 2022, a pair of ospreys attempted to nest on a power pole in Perry County near Buckeye Lake. AEP constructed a nesting platform adjacent to the power pole, and in early 2023 State Wildlife Officer Mark Basinger, assigned to Perry County, confirmed nesting activity on the new nest platform.
Southwest Ohio – Wildlife District Five
State Wildlife Officers Matt Roberts, assigned to Highland County, and Isaiah Gifford, assigned to Clinton County, as well as Law Operations Manager Eric Lamb, responded to a call of a lost hunter at Eagle Creek Wildlife Area. A Brown County deputy located the man with a drone, giving the searchers a precise location. Aberdeen fire and emergency medical services assisted with the search as well as a trooper from the Ohio State Patrol. The hunter was helped out of the wildlife area by wildlife officers and emergency medical services staff. The hunter was treated on scene.
State Wildlife Officers Jason Keller, assigned to Warren County, and Mathew Bourne, assigned to Clark County, participated in the Warren County Soil and Water Pond Clinic. The officers, along with District Five fish biologist Kipp Brown, discussed aquatic wildlife and answered questions from participants. Ohio ponds provide important recreational, domestic, and agricultural uses that range from fishing, swimming and wildlife viewing to water sources for humans and livestock, irrigation, and erosion control. Ponds benefit wildlife by providing feeding and nesting habitat, resting areas, and water sources. Ponds that are constructed, maintained, and managed with these uses in mind are a valuable part of Ohio's natural resources. Visit wildohio.gov to download the Ohio Pond Management Handbook.