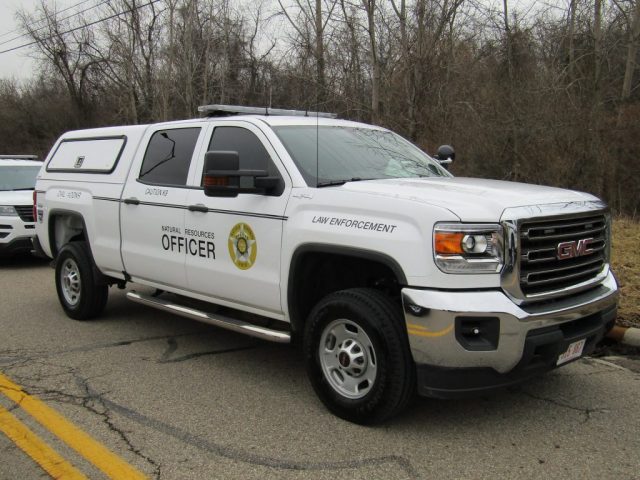 Field reports from Ohio Division of Wildlife Officers
Central Ohio – Wildlife District One
During the 2023 white-tailed deer muzzleloader hunting season, State Wildlife Officer John Coffman, assigned to Fayette County, received information that an individual had taken a deer with a rifle. After a short investigation, it was determined that a rifle was used, and the deer was harvested on land the hunter did not have permission to hunt. Multiple summonses were issued, and the individual was found guilty and ordered to forfeit the deer and rifle.
State Wildlife Officer Maurice Irish, assigned to Delaware County, learned from the Turn-In-A-Poacher hotline that a resident had killed multiple bucks during the 2021-22 white-tailed deer hunting season. State Wildlife Officer Tyler Eldred, assigned to Morrow County, and Officer Irish initiated an investigation that revealed the individual killed three bucks and three does in one season. The suspect's spouse checked in one buck and a neighbor checked in another. The three does were not game checked. The antlers and crossbow were seized and forfeited to the Ohio Division of Wildlife. The poacher was ordered to pay $5,744.81 in restitution and $1,507 in fines and court costs. The individual also received 180 days in jail, suspended, and three years of community control in which the individual is not allowed to hunt. Reports of wildlife violations can be submitted anonymously via the TIP hotline at 1-800-POACHER (1-800-762-2437).
Northwest Ohio – Wildlife District Two
In January, State Wildlife Officer Austin Dickinson, assigned to Defiance County, received a call about an injured bald eagle. Officer Dickinson tracked the bald eagle from where it was originally observed and eventually captured it. Officer Dickinson transported the eagle to Nature's Nursery rehabilitation center in Whitehouse where it was evaluated for injuries. Individuals who locate injured or sick wildlife should contact their local wildlife officer for information on how to respond.
Northeast Ohio – Wildlife District Three
During the 2022-23 white-tailed deer archery hunting season, State Wildlife Officer Scott Cartwright, assigned to Carroll County, received a complaint from a landowner about an individual hunting without permission. Officer Cartwright responded and initiated a traffic stop on the individual's car. After an investigation, the hunter was charged with hunting without permission. He was found guilty in Carroll County Municipal Court, sentenced to 60 days in jail and 15 hours of community service, and ordered to pay $145 in fines and costs.
During the 2023 white-tailed deer muzzleloader hunting season, State Wildlife Officers Michael Budd and Scott Cartwright, assigned to Tuscarawas and Carroll counties, respectively, patrolled public hunting property in Carroll County. While checking on a facility owned by a youth camp, the officers detected a propane odor outside the facility and notified the camp director. When the repair crew arrived, they found a significant propane leak which could have severely damaged the facility.
Southeast Ohio – Wildlife District Four
State Wildlife Officer Matt VanCleve, assigned to Pike County, was on patrol during the 2023 white-tailed deer muzzleloader hunting season. He received a call about a hunter who was not wearing hunter orange clothing. During all deer firearm seasons hunters must be visibly wearing a coat, vest, jacket, or coveralls that are either solid hunter orange or camouflage hunter orange. Officer VanCleve responded to the complaint and contacted the suspect, who was not wearing the required hunter orange. The individual was issued a summons, pleaded guilty in Pike County Court, and paid a fine of $180.
In November 2022, State Wildlife Officer Benjamin Smith, assigned to Morgan County, responded to a call about a non-life-threatening hunter injury at Appalachian Hills Wildlife Area. Officer Smith and State Wildlife Officer Chris Gilkey, assigned to Meigs County, followed up with the two individuals involved in the incident. It was revealed that the incident did not occur on the wildlife area but instead happened at a residence while cleaning a firearm. The two individuals were also found to have spotlighted white-tailed deer, shot two deer from a vehicle at night, and failed to game-check the harvest. The two suspects were later found guilty on four charges in Morgan County Court. They each paid more than $900 in fines, restitution, and court costs. In addition, they each received a one-year hunting rights revocation, were placed on one year of probation, and were sentenced to 30 days in jail, suspended. The deer that were illegally harvested were donated to Farmers and Hunters Feeding the Hungry, and the firearm used was forfeited to the Ohio Division of Wildlife.
Southwest Ohio – Wildlife District Five
State Wildlife Officers Gus Kiebel, assigned to Adams County, Jason Keller, assigned to Warren County, and Matt Roberts, assigned to Highland County, along with Wildlife Officer Program Manager Eric Lamb and State Wildlife Investigator Joel Buddelmeyer worked a case concerning a poacher who was previously charged in 2020. The suspect was found to have illegally harvested wild turkeys and waterfowl and hunted without permission in two counties. He was recently sentenced to a $2,300 fine, $457 in court costs, and forfeiture of two guns, a crossbow, a scope, and goose meat in Clermont County. In Brown County, he received a $50 fine, three-year hunting license revocation, and 60 days in jail with seven days served. The suspect is also scheduled for a pretrial on a 2022 case for hunting without permission and hunting under a revoked license in Clermont County.
During the recently concluded white-tailed deer hunting season, State Wildlife Officer Gus Kiebel, assigned to Adams County, responded to a call from the Higginsport Police Chief regarding a traffic stop in Brown County. The chief noticed blood on the back of a vehicle he had stopped and discovered an untagged deer inside the vehicle. Officer Kiebel issued the individual a summons for the violation. The driver was also issued a summons by the Higginsport police for driving while under suspension.