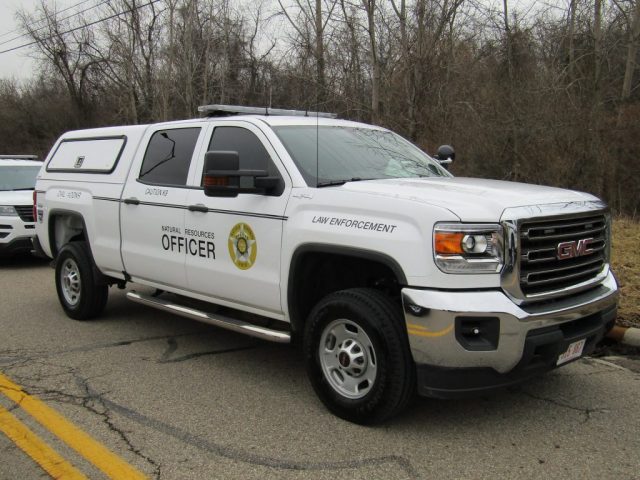 Central Ohio – Wildlife District One
The Ohio Division of Wildlife Honor Guard and District One staff participated in the Worthington Memorial Day Parade to honor those who sacrificed for our country. State Wildlife Officers Bob Nelson, Eric Moore, Tyler Eldred, and Ryan Donnelly, assigned to Ross, Medina, Morrow, and Athens counties, respectively, and Law Operations Manager Josh Shields represented the Honor Guard. District One manager Kassie Mitchell and Wildlife Officer Supervisor Tony Zerkle attended in a patrol vehicle.
Northwest Ohio – Wildlife District Two
In May and June, wildlife investigators and wildlife officers worked with K-9 units from across the state to enforce walleye regulations on Lake Erie. Investigators and officers made close to 800 compliance checks, looking for valid fishing licenses and ensuring harvested walleye fell within size and bag limits. K-9 units inspected vessels to check bag limits. Over three days, officers detected numerous violations, including people fishing without a license and taking more than the legal bag limit of six walleye. K-9 units also spoke with hundreds of sportsmen and women to share information about the Ohio Division of Wildlife's K-9 officer program. State Wildlife Officer Nathan Kaufmann, assigned to Richland County, and K-9 Officer May demonstrated how the canines work and find hidden fish.
During the white bass run, State Wildlife Officer Charles McMullen, assigned to Sandusky County, and State Wildlife Officer Ryan Burke, assigned to Hancock County, discovered a boat experiencing motor failure on the Sandusky River. The officers towed the four stranded anglers to Riverfront Marina in Fremont where the vessel had put in. The fishermen were happy to be safely assisted to shore.
Northeast Ohio – Wildlife District Three
Several state wildlife officers assigned to eastern Ohio counties participated in Camp Canopy, which is hosted by FFA Camp Muskingum in Carroll County. This forestry-focused camp attracts around 200 high school students from across Ohio. The wildlife officers introduced the students to shooting sports and safety with rifles and shotguns.
During the 2022 white-tailed deer gun hunting season, State Wildlife Officer Craig Porter, assigned to Jefferson County, discovered a Pennsylvania resident who had harvested a buck in Ohio without a valid hunting license or deer permit. Officer Porter contacted the Pennsylvania Game Commission and advised them of the situation. Officers with the Pennsylvania Game Commission visited the hunter's residence and seized the deer. Officer Porter issued two summonses to the individual for the violations. The suspect was ordered to pay $375 in fines and court costs and the deer was forfeited to the Pennsylvania Game Commission.
Southeast Ohio – Wildlife District Four
While patrolling the Scioto River, State Wildlife Officers Matt VanCleve, assigned to Pike County, and Darin Abbott, assigned to Lawrence County, contacted two fishermen who had valid fishing licenses but did not have the required personal floatation devices (PFDs). The owner of the boat was issued a summons in Pike County Court for the violation and was ordered to pay $210 in fines and court costs.
During the first week of the 2023 spring wild turkey hunting season, State Wildlife Officer Chris Dodge, assigned to Hocking County, and Wildlife Investigator Wes Feldner received a hunting without permission complaint in Washington County. Investigator Feldner located two suspects from out of state. Officer Dodge and Investigator Feldner located a site on the private property where a turkey had been harvested and gathered additional evidence, including a shotshell wad and turkey feathers. The two suspects were determined to have hunted without permission and were charged for the violation. Both pleaded guilty in Marietta Municipal Court and paid a combined $500 in fines and court costs. The harvested turkey was forfeited to the Ohio Division of Wildlife.
Southwest Ohio – Wildlife District Five
State Wildlife Officer Jason Keller, assigned to Warren County, K-9 Officer Scout, Law Enforcement Unit Supervisor Matt Hunt, and Law Operations Manager Eric Lamb attended a Cops and Bobbers event in Warren County. The event was hosted by Deerfield Township and the Warren County Sherriff's Office. Approximately 200 people participated. Ohio Division of Wildlife staff and volunteers rigged fishing poles and assisted with the archery trailer.
State Wildlife Officer Brad Buening, assigned to Mercer County, received a call regarding animal parts dumped along Greenville Creek. Officer Buening investigated the dump site and located a suspect at a nearby residence. The individual was found to have dumped waste from butchered hogs along the creek. The suspect was charged with stream littering and arraigned in Darke County Municipal Court. The person was found guilty and was ordered to pay a fine of $150 and complete three full days of community service