Fayette County – Thursday night sales moved a family to believe in the community when a Jr Hog sells for over 20 thousand dollars for a child is fighting a terrible disease.
That child is Gary Lewis who in January of 2021 was diagnosed with T-cell acute lymphoblastic leukemia, he is a student of Miami Trace Elementary School.
When it was Lewis's turn to show he stood up and did his best to present his prized hog that he had nurtured through some hard times, and the bidders rallied behind that.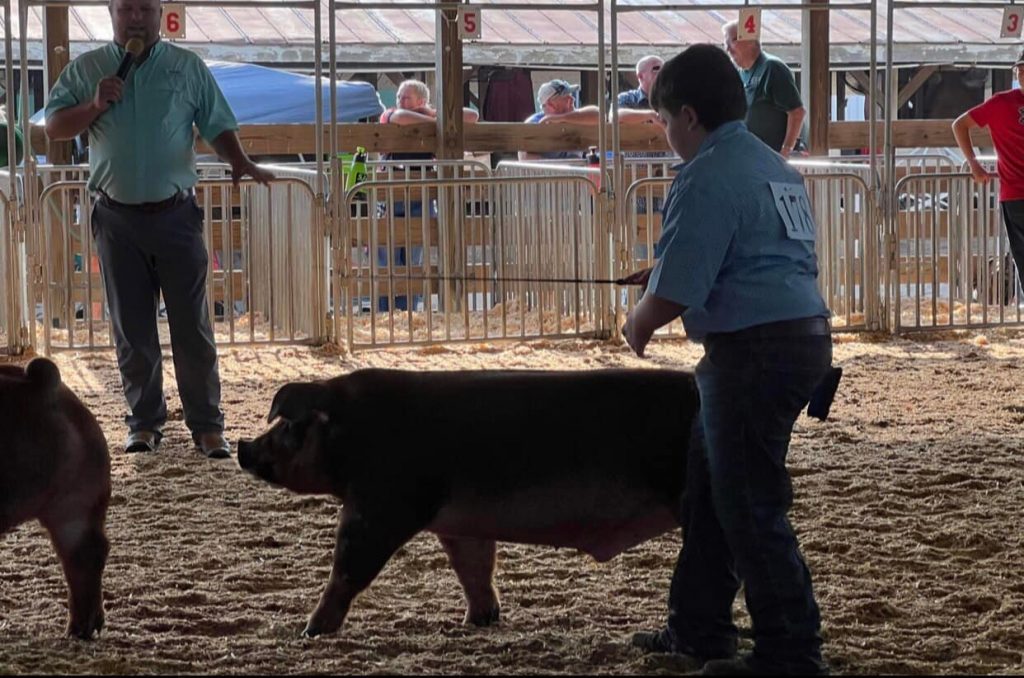 In the video below the auctioneer said well let's start this one a little high, how about 5,000. That price was quickly bid, followed by several more, 6,000, then 6,500, soon it rose to 10,000, and the room got silent, only the bidders and auctioneer could be heard, as bidders fought back and forth for the honor of the Lewis Hog. The bidding ended at 13,600 but that wasn't the end.
The auctioneer said to the crowd, "We want to share a story about this young man, and told the crowd about his disease, and how strong of a boy he has been through the diagnosis and his fight," a second auctioneer came to the podium to help share the story when the first choked up and couldn't finish as Lewis stood in front of the crowd proudly, "He is the strongest boy, I know, I'm proud to know him."
The auctioneer then opened up and allowed bidders to put another 100, dollars into the bid to give support. He said just hold up your bidder numbers then he started calling them out "534,820,374,44,271,216,92,124,244,131,246,298,223,575,581,928,22,213,56,356,898,308,98," and more. In total over 55 businesses donated over 100 dollars, some donating afterward larger sums. In total Lewis raised over 21,000 dollars.
Lewis's mother, Stacey Mathews, posted about the event on social media, "I am still in awe of what happened last night and has continued at the sales this evening. I can't even begin to thank everyone, but I know several of my friends and parents of Gary's friends were involved in making this happen. We love you all so much! We are blessed to live in a community where kindness and loving people goes such a long way. Gary may not truly comprehend what happened last night until he's a little older, but we will make sure as he gets older, he knows how important it is to give and to donate and to pay the generosity of others forward. Again, we thank you from the bottom of our hearts Fayette County!"
You can watch the video unfold here: https://www.facebook.com/gordon.lowe.56/posts/pfbid02YqqTbFuoyDSJNnJUFWrz591Can1LdPbG6oEvwRQR3EyVvwdarxZXb1qKwq9CqMf9l