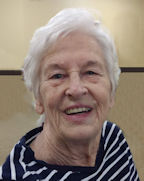 Yvonne Cline died peacefully and gained her angel wings on December 17, 2020 after a long and wonderful life.   She was born on February 18th, 1938 with her beloved twin brother Leon Neff in Chillicothe Ohio.  She attended Union Scioto Schools and graduated in 1956.  She was a member of the choir and was crowned homecoming queen her senior year.  While in school she met her soulmate Stephen D. Cline whom she married July 5, 1959.   
Yvonne was the best wife, mom, thoughtful friend and animal lover. She enjoyed fellowship at Brookside Church of Chillicothe where she volunteered in the food pantry and other ministries.
She is survived by daughters Lora (Dave) Moore of Columbus, Cindy (Jeff) Mueller, of Xenia, Donna Clark of Gahanna; her grandchildren Jarrod Finley, Linzi Moore, Jacoby Clark, Kendall Clark; her twin brother Leon Neff; many nieces, nephews and friends. Preceding her in death was her husband, Stephen Cline; her parents, Ethel Piece, Elmer Neff; her stepfather James Pierce; her siblings, Glen Neff, MaryLou Green; and her son in law, Phil Clark.
The family would like to thank the nurses and caregivers of Danbury Memory Care of Columbus and Capital City Hospice. In lieu of flowers, donations can be made to: Brookside Church Food Pantry, 2215 Egypt Pike, Chillicothe OH 45601
There will be no visitation at this time. Arrangements are under the direction of the WARE FUNERAL HOME.
     You may sign her online register at www.warefh.com