- Advertisement -
CIRCLEVILLE
At 1:30pm on August 9th, the new Blain Smedly Jr. Boat Ramp was dedicated at A. W. Marion State Park. The dedication is the end result of a project in partnership with the ODNR Division of Wildlife and the ODNR Division of Parks and Watercraft, with the project being completed by McDaniel's Construction Inc. of Columbus Ohio.
The total project cost was valued at $299,934 with $279,326 coming from Blain Smedlyey Jr. and $20,608 coming from the Waterway Safety Cooperative Grand Funding for Boat Facilities.
- Advertisement -
Local and State officials were part of the ramp christening, including Mike Luers, Assistant Chief from the ODNR Division of Wildlife, Craig Butler, Director of the Ohio EPA, and James Zehringer, Director of ODNR among others. County Commissioner Brian Stewart was among local officials at the gathering and presentation.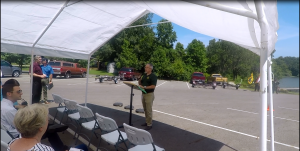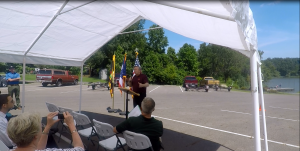 "A.W. Marion State Park is a great asset that we have within Pickaway County, and we are very grateful to the family of Blain Smedley, Jr. for the incredibly generous gift they have made to benefit their fellow residents both locally and across Ohio. It was an honor to have ODNR Director Jim Zehringer, Ohio EPA Director Craig Butler, and so many other state officials on hand in our community to dedicate the renovated boat ramp." said Brian Stewart, Pickaway County Commissioner.
About Blain Smedly Jr.
Blain was an avid outdoorsman who loved boating, fishing, and hunting. After his death, Blain graciously wanted to give back to local sportsmen and women to expand their outdoor experiences.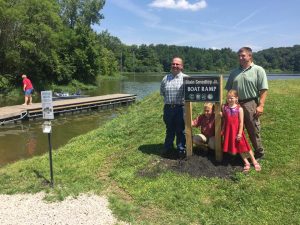 Other Improvements
Although the two lane concrete boat ramp with accessible floating 6-foot wide courtesy/launch dock was the key component of the project, other improvements were made as well. Asphalt parking was repaved and re-striped for 137 total spaces at the park, and shoreline erosion rock protection was performed as well.
- Advertisement -