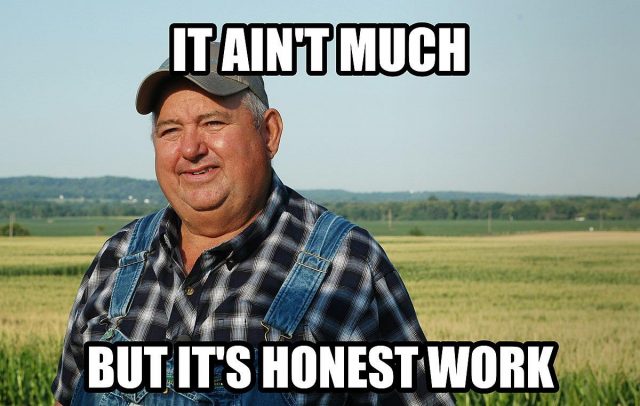 OHIO – A man famous around the internet for his Honest work meme, was famous locally for other reasons in Fairfield County Ohio.
David Brandt died over the weekend when he was involved in an automobile crash in Urbana Illinois. He was transported to the hospital after suffering several serious injuries and later died from that incident he was 76.
Most people know Brandt from a 2012 viral meme that still is seen on social media today that says, "It ain't much but its honest work." The photo and the statement were taken at a Natural Resources Conservation Service event on his farm in 2012 and has become a global symbol of traditional values and work ethic.
Brandt who enjoyed the meme according to the family also was the symbol of that, in agricultural circles he was known as a global leader in the no-till cover crops soil health guru. He also traveled around the country talking about farming and soil health.
David and Kendra Brandt purchased his grandmother's farm in 1971 in Carroll Ohio after being honorably discharged from the Marine Corps and serving in Vietnam. It was his grandmother's grandfather's farm before that. It currently consists of 736 acres of no-till row crops and cover crops. David also has a cover crop seed company and a seed-cleaning business that operates on the farm. The farm involves three generations of family.
Not only a meme Brandt can be found talking in seminars and in reports all over the county talking about the honest work of farming. With a quick search of his name you will find lots of information on his work.
Will his name and work carry on? It already has, Brandt owned and operated Walnut Creek Seeds, with his son, daughter-in-law, and grandson.