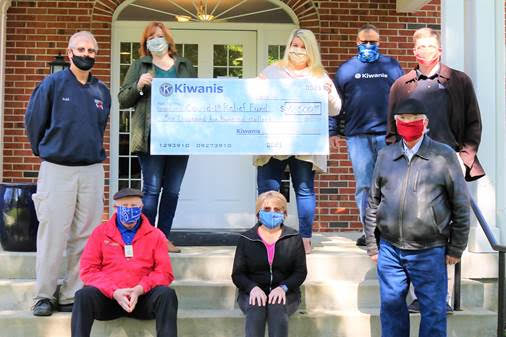 LANCASTER, Ohio – The Fairfield County Foundation and United Way of Central Ohio are pleased to announce a donation of $6,500 made this week by the Lancaster Kiwanis Club to the Fairfield County Covid-19 Relief Fund. The COVID-19 Relief Fund, which was established in April, will provide flexible grant resources, up to $5,000, to qualified charitable organizations operating in Fairfield County that are directly supporting residents whose basic needs are going unmet due to COVID-19.



The donation was made from funds typically used for Kiwanis Little League, which was cancelled this year due to the pandemic. Kiwanis President Temple Montanez said the gift was a way to remain impactful in the community despite the current shelter-at-home directive.
"Kiwanis is here to make a difference in the lives of children in the community and the community at large," she said. "Assisting with the Covid-19 Relief Fund was just one more way for us to fulfill our club's mission."
"We are incredibly pleased with the community's response to the fund. We have provided grants to 13 non-profits to date and plan to continue providing grants over the coming months," said Amy Eyman, Fairfield County Foundation Executive Director. "In order to do this, we need those who are able to contribute to the fund. We appreciate the support of Lancaster Kiwanis and their willingness to think creatively about how to reallocate funds to best serve our community."
Non-profits interested in receiving funding must complete a COVID-19 Relief Fund Application, found on the FCF or UWFC website, and submit the application to either Amy Eyman ([email protected]) or Scott Reed ([email protected]).
Individuals, businesses, foundations and organizations interested in making charitable contributions to the Fairfield County COVID-19 Relief Fund can donate in one of three ways:
Please contact Amy Eyman at [email protected] or Scott Reed at [email protected] with any questions.
The Fairfield County Foundation is a 501 (c) (3) non-profit that along with its supporters, helps to sustain and enhance the quality of life and economic viability in our community. Its scholarship program helps to sustain opportunities for local youth to achieve their academic goals. The Foundation was formed in 1989 and grants today continue to support the arts, children's programs, health and wellness projects, community development, academics, and more.  For more information about the Foundation, please call 740-654-8451 or visit www.fairfieldcountyfoundation.org.
The United Way of Fairfield County is a 501(c)(3) non-profit organization that strives to improve lives through the caring power of our community.  Since 1940, United Way has worked to advance the common good by focusing on the education, financial stability and health of the people of Fairfield County.  For more information about the United Way of Fairfield County, please call 740-653-0643 or visit www.uwayfairfieldco.org.