CIRCLEVILLE – The Eyes of Freedom is reaching out to the community looking for sponsorship after over five years of support from the community.
Since 2014 The Eyes of Freedom has brought its exhibit to Pumpkin show through the hands of dedicated Navy Veteran Terry Slone who passed away this year, but the organization promised the family that they would attempt to continue the memorial at Pumpkin show.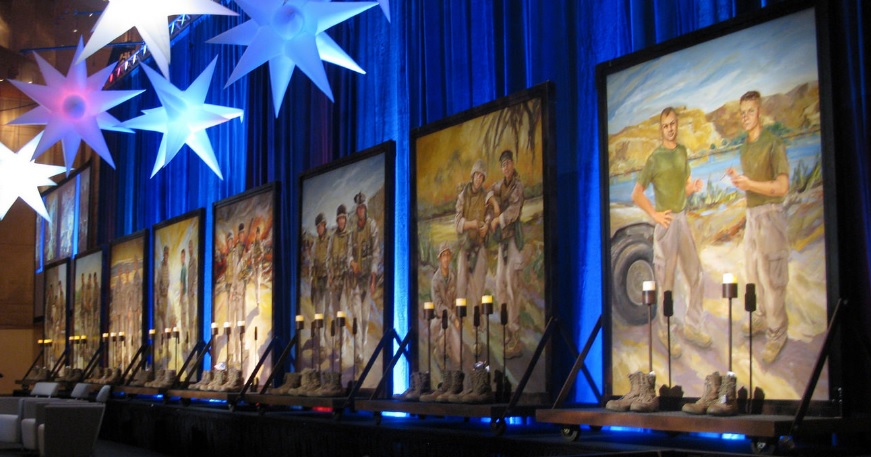 "Terry organized the fundraising efforts year after year for us to bring the event to the show. It's been an amazing experience, so many veterans come year after year. It affects so many.", said Eyes of Freedom, "Veterans from every war come in and see the life-sized murals, and it's like they step back in time to a different place. They relive the past through our memorial. Its been growing larger and larger every year. Pumpkin show is the largest audience we have throughout the country. This is something that we must continue that's why we are reaching out."
The cost to move the memorial is around 6,000 dollars for the week, supporters said that they have half already earmarked but need more for the trip.
"Soldiers monumental has always been one of the primary sponsors, this year with the cannon project and effects from 2020. Any extra that we receive this year will go towards next year," said Eyes of Freedom.
The Eyes of Freedom is a traveling memorial honoring "the service and sacrifice of all who answer our Nation's call; then, now, and tomorrow." It features life-size portraits and displays depicting the fallen of Lima Company 3/25, one of the hardest-hit units in Operation Iraqi Freedom.
If you are interested in supporting the Eyes of Freedom email here: [email protected]