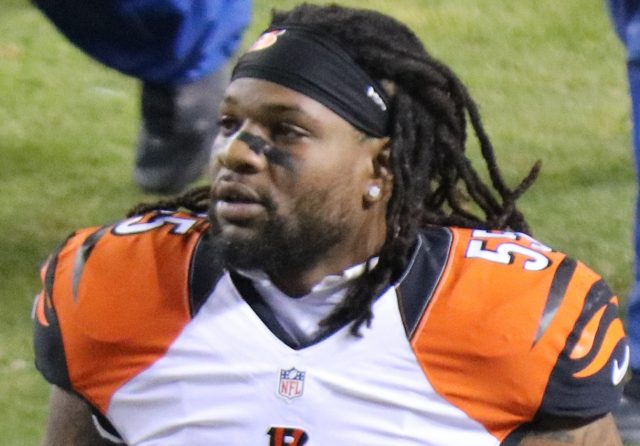 For the first time in history, the NFL suspended a player for the remainder of the season for a hit on the field. The NFL had reached its breaking point with Oakland Raiders linebacker Vontaze Burfict.
Burfict nailed Indianapolis Colts tight end Jack Doyle with a blatant helmet-to-helmet hit after Doyle was getting up after a short catch. Which resulted in Burfict being ejected from the game.
The particular hit wasn't so bad that a year-long suspension was necessary but Burfict has a history that played a factor in the suspension. In 2016 and 2017 Burfict was suspended for 3 games per incident for headhunting hits.
Vontaze Burfict was ejected for this hit on Jack Doyle pic.twitter.com/vFply5QOKN

— NFL Stats (@NFL_Stats) September 29, 2019
In a statement, the NFL said this of Burfict's suspension:
"Vontaze Burfict of the Oakland Raiders has been suspended without pay for the remainder of the 2019 season, as well as any postseason games, for repeated violations of unnecessary roughness rules, including in Sunday's game against the Indianapolis Colts.
"NFL vice president of football operations Jon Runyan issued the suspension for a violation of Rule 12, Article 10, which states that: 'It is a foul if a player lowers his head to initiate and make contact with his helmet against an opponent.'
"In his letter to Burfict, Runyan wrote: 'There were no mitigating circumstances on this play. Your contact was unnecessary, flagrant and should have been avoided. For your actions, you were penalized and disqualified from the game. Following each of your previous rule violations, you were warned by me and each of the jointly-appointed appeal officers that future violations would result in escalated accountability measures. However, you have continued to flagrantly abuse rules designed to protect yourself and your opponents from unnecessary risk.'
"Under the collective bargaining agreement, the suspension may be appealed within three business days. Appeals are heard and decided by either Derrick Brooks or James Thrash, the officers jointly appointed and compensated by the NFL and NFLPA to decide appeals of on-field player discipline."
This punishment is unique in NFL history. And Burfict earned it by being a menace on the field, repeatedly breaking the league's rules to eliminate dirty hits from the game. Even going as far as diving at then-Bengals teammate Giovani Bernard's knees in a practice, Burfict's reputation is well earned.
Burfict in his past has racked up more than $4.2 million in fines, counting lost game checks due to suspensions, Including a four-game suspension for a violation of the league's performance enhancing drug policy, he had missed 10 NFL games due to suspension. Burfict signed a one-year, $2 million deal with the Raiders this offseason.
The suspension will cost Burfict $1.16 million in forfeited salary.