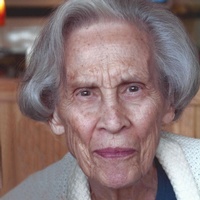 Evelyn Eibest Shaeffer passed away September 2, 2017, at the Wildwood, Missouri, home of her daughter Becky and son-in-law Jeffrey Roberts. Also at her bedside were her daughter Cheryl and son-in-law Kenneth Sandor of Chillicothe, Ohio.
Born in Ross County, Ohio, on September 5, 1918, Evelyn was the daughter of the late John F. and M. Ethel (Wheeland) Eibest.
Following her 1936 graduation from Chillicothe High School, Evelyn worked for the Prudential Insurance Company. Engaged to Robert F. Shaeffer in 1942, the couple was married on September 6, 1945, three days after Bob returned from the war in the Pacific. In 1952, the Shaeffer family moved to Zanesville where they were the owners of three businesses. An astute business woman, she worked seven days a week, but always put her family first.
Her "rest breaks" were a time to read to her daughters, hand stitch dolls clothes for them, and play games with them. She taught her daughters to read by reading the Bible to them. Later, she lovingly would hand stitch keepsake dolls and special toys for her five grandchildren. She loved fashion and shopping and taught her daughters and then her granddaughters the art of careful shopping and stylish dressing.
Evelyn and Bob loved to travel the country, either in a car or in one of several motorhomes they owned over the years. But their special destinations were to the homes of their daughters to visit their grandchildren. Their grandchildren, Gregory (Celeste Edwards) Sandor, Shelly (Steve) Roberts Duff, Ellen (William) Sandor O'Brien, Jessica (Layland) Roberts Watson, and Jennifer (Kyle) Sandor King, were treated to "Shaeffer Grandkids Summer Camp-No Parents Allowed" for two weeks of late night talks, picnics at Dillon Lake, bike rides, watching the birth of a calf, travel to Niagara Falls, and "brushing our teeth in Canada". "And her children will rise up and call her blessed".
Evelyn is also survived by her great grandchildren Ethan and Jack Duff, Aidan and Brooke O'Brien, Paxton, Brodie, and Shaeffer Watson, and Benjamin King.
In addition to her parents, Evelyn was preceded in death by her husband Bob (2009), three brothers John Kenneth, Harold Leslie, and Donald Earl and her sister Mildred Beatrice Eibest Martin.
Funeral services will be held 10 a.m. Saturday, September 9, 2017 in Concord United Methodist Church, corner of St. Rt. 50 and Concord Church Road, with Pastor Kurt King officiating. Burial will follow in Concord Church Cemetery. Friends may call at the WARE FUNERAL HOME, 121 W. Second Street Chillicothe, from 6 to 7 p.m. Friday.
The family wishes to express our deepest appreciation to Schrader Funeral Home in Ballwin, Missouri, for their outstanding service to both our parents and to Ware Funeral Home in Chillicothe for their gracious service of compassion to several generations of our family.
You may sign her online register at www.warefh.com