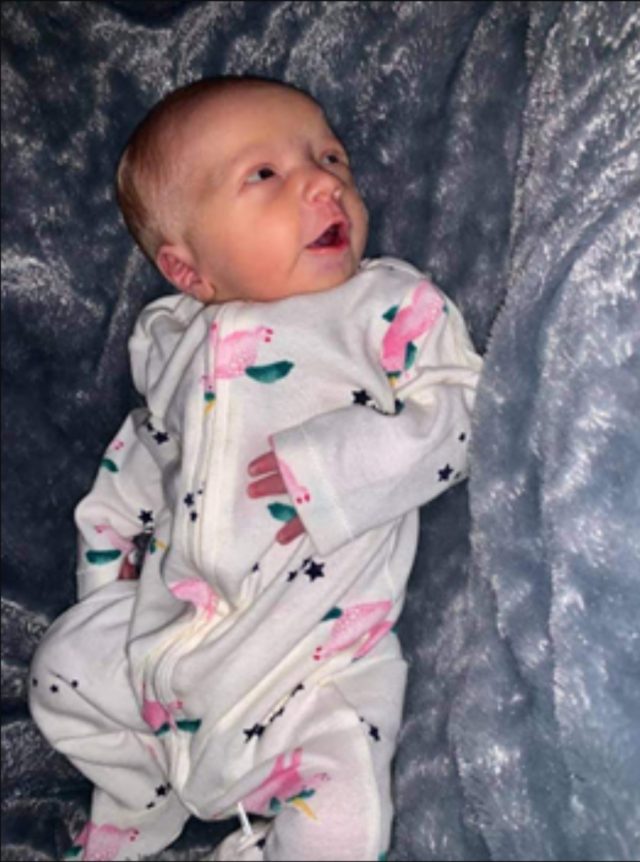 Our sweet princess, Emelia Fay Spaulding, was born on July 13, 2020 and went into her Heavenly Father's arms, September 14, 2020. Although we only had her for a short time, we loved her dearly.
A letter from dad and mom: 
Words can't describe what I'm feeling right now. I'm lost and broken and I'm so angry at everything. Things were not supposed to be this way. I want my tea parties and my make-up done. I want an excuse to dress up like a princess. I've looked so forward to being a dad of a little girl for the last 8 years. I'm not ready for what's happening. You were a fighter until the very end, but you can finally rest now my sweet princess. Mommy and daddy love you very much.
She is survived by a large and loving family: father and mother, Ryan and Beth, and brother Grayson Spaulding of Columbus; great grandparents Helen Spaulding of Grove City, Betty Wickwire of Norton; grandparents Buck and Celenia Spaulding of Grove City, Jim and Lisa Livengood of South Bloomfield; great aunts Terry (Rodney) Flanery of Ashville, Tracy Kelsey of Kyle, TX, Emily (Ben) Nank of Norton, Sarah (Karen) Livengood of Blacklick, Renee Livengood of Salt Lake City, UT; great uncles David Wickwire of Columbus, Rus (Liz) Wickwire of Washington D.C., Robert Livengood of Columbus, David (Carol) Livengood of Southbridge, MA; aunts Ashley (Chris) Curnutte of Columbus, Chelsea Spaulding of Columbus, Zoe Livengood of Pittsburgh, PA, Tess Livengood of Columbus; many great-great aunts and uncles, and many cousins.
We request donations to Venmo @Beth-Spaulding-6, in lieu of flowers.
Visitation, Saturday, September 19, 12:00 noon, Oliver-Cheek Funeral Home, 420 W. Main Street, Ashville, OH 43103. Graveside service to follow at 1:00 p.m., Harrison Township Cemetery, South Bloomfield.
Please join us for a meal, following the graveside service, at the home of Jim and Lisa Livengood, 5060 Crites Drive, South Bloomfield, OH 43103.