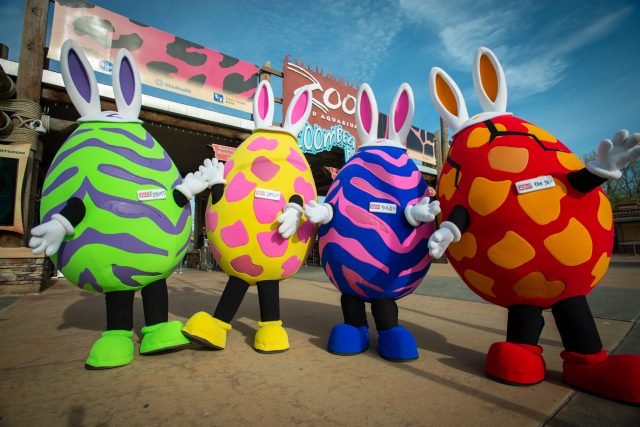 Powell, OH – EGG-streme fun awaits the whole family at the Columbus Zoo and Aquarium's popular springtime event, Eggs, Paws and Claws, presented by Kroger. Hop to the Zoo for this annual Easter weekend tradition on Friday, April 15 and Saturday, April 16, 2022 from 9 a.m. to 5 p.m.
The event is free with Zoo admission or Zoo membership. Egg-citing festivities include:
Egg-Splore-N-Find (while supplies last): Take part in this special activity presented by your favorite Zoo Character Ambassadors. Locate the hidden eggs around the Zoo and collect the corresponding card for each egg you find. Once all nine cards are collected, stop by Egg-splore-n-Find Central located across from Lakeside Pavilion to receive your "hen"-tastic prizes.
Egg Ambassador Meet and Greets (weather dependent): A visit to Eggs, Paws and Claws isn't complete without saying "Hi" to the happy hosts of this event. Located at the front of the Zoo's Lakeside Pavilion, Eggbert, Shelley, Yolko and Oh-No will leave guests feeling sunny-side up! Egg Ambassador Meet and Greets will take place at 9:30 a.m., 1:30 p.m. and 3:30 p.m.
Character Ambassador Meet and Greets (weather dependent): Some of your favorite Character Ambassadors will be around to celebrate spring, say hello, and take some memorable photos with their pals. Times: 9 a.m., 10 a.m., 11 a.m., 12 p.m., 1 p.m., 2 p.m., 3 p.m., and 4 p.m.
Eggbert & Shelley's Rolling Shell-abration (weather dependent): This musical adventure follows Eggbert, Shelley, Yolko and Oh-No as they roll their way through the Zoo on the Character Express train! The Rolling Shell-abration will take place daily at 10:30 a.m., 12:30 p.m., 2:30 p.m., and 4:30 p.m.
Photos with the Easter Bunny (reservations are full; standby line is available): The Easter Bunny has arrived at the Zoo's My House at Habitat Hollow in the North America region! Be sure to hop on over during your visit for a unique photo experience with the Bunny himself. Professional photos will be available to purchase at an additional cost. Photo options for Easter Bunny photos are one 5×7 & 4 wallet-size photos for $19.99 (subject to change), with the option of adding an additional 5×7 or a digital copy for $5 more. Purchases are not required for this activity. Photos taken on personal device(s) are permitted.
Animal Enrichment, presented by Nationwide
Travel around the Zoo and watch some of your favorite animals enjoy an egg hunt of their very own. Watch them seek, eat, and play with eggs (or something equally as tasty!).
Schedule for both days (subject to change):
9:45 a.m. – Heart of Africa (Lions)
10:15 a.m. – Heart of Africa (Cheetahs)
10:45 a.m. – North America (Canada Lynx)
11:30 a.m. – Asia Quest (Sloth Bear)
12:15 p.m. – Shores (Manatees)
1:00 p.m. – Congo Expedition (Gorillas)
1:45 p.m. – Australia and the Islands (Tasmanian Devils)
2:30 p.m. – Adventure Cove (Seals and Sea Lions)
3:15 p.m. – Animal Encounters Village (TBD)
For additional updates about the Columbus Zoo, events, and more, be sure to follow the Zoo's social media accounts on Facebook, Instagram, Twitter, and TikTok, and visit us at ColumbusZoo.org.