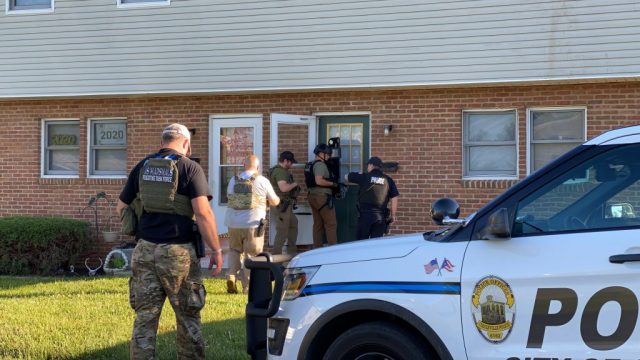 CIRCLEVILLE – "You can't arrest your way out of the drug epidemic," says just about any law enforcement entity in the area. So doing the same thing over and over doesn't make much sense. That's when the idea of "Operation Recovery Serg" and "Operation New Dawn" was launched by local departments to help hold people accountable for their actions, and help people to recover from addiction.
"Over the last year we have seen an increase in overdoses, mostly related to fentanyl and methamphetamines," said Jason McGowan Chief Probation Officer, "We launched Operation New Dawn to keep those people accountable that we have under our supervision."
Since June Circleville Police department, along with the Probation Department, and Pickaway Area Recovery Services have launched a major operation throughout the city targeting users and traffickers of drugs.
"Operation New Dawn" piggybacked off "Operation Recovery Serg" an operation in early June that took people with substance abuse disorders and traffickers into custody, not just jail. This approach to substance abuse is different but has been more effective. Arrested individuals were transported to a booking and Covid-19 screening center. After screening, they were transported directly to court for arraignment on their charges.
"Operation New Dawn" came in just after Recovery Serg ended. This accountability operation to the over 70 people who were arrested or placed on this special probation has shown results. The task force has reported that less than 9% of that 72 person group have reoffended. Of the 72 people only 9 since June.
"Due to these individuals being placed on probation through the initial operation this allows the probation department to keep those individuals more accountable for their actions," said McGowan. "This allows us to talk to people and assess where they really are in recovery. We brought in 8 individuals that have been assessed over the weekend with treatment options, 1 in detox, 1 in residential treatment (possible second), and only incarcerated 2 for probation violations."
"This new program lets us get into their environment speak to family members, see how the live, see really what's going on. Then probation officers can make a decision on PARS programs if needed, Jail if needed, or other options."
A video of last years operation Serg is here: https://www.facebook.com/674982326018857/videos/195931374989909