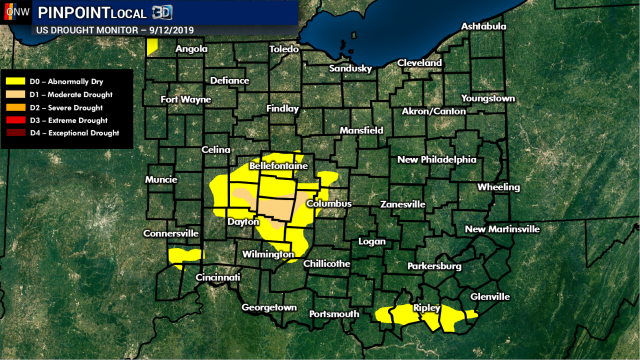 Columbus, OH — Could it really be? We need rain after months of heavy rain and floods during the Spring and early Summer? In fact, some of you really could use a healthy downpour! Many of us have gone through a drier than average spell here lately. Despite months of rain to kick off spring and summer that led to some fields of crops not being planted, we do in fact need rain for some Buckeye residents!
Taking a look at the latest drought monitor released today from NOAA, much of Central and Western Ohio is either Abnormally Dry or in a Moderate Drought. For example, Dayton has seen 0.01″ of rain for September, which is over 1″ below normal as we approach the middle of the month. Columbus is about 0.66″ below normal for September. While these areas had a wet Spring, August and September (so far) have been drier than normal.
Aside from that, smaller sections of Indiana, West Virginia, and Ohio are running Abnormally Dry. Everyone else is running close to normal on rainfall when you take August and September and put them together.
OUTLOOK: We will see a chance of showers and thunderstorms, however another dry period with no rain chances is expected for another 5-7 days at least. So, we may see some of these drought conditions expand briefly.