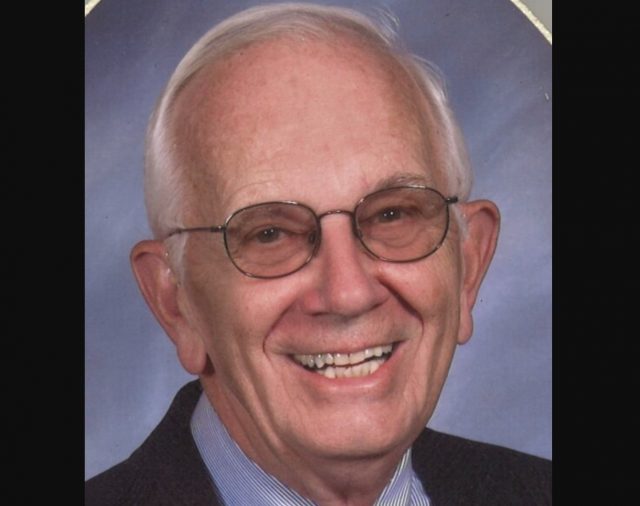 Donald Edwin Metzler, age 87, passed away August 6, 2022 in Canal Winchester, Ohio. Donald was born November 27, 1934, in the Pickaway Charge Church parsonage on East Franklin Street, Circleville, Ohio, to the Reverend Lewis Spurgeon and Mabel (Marshall) Metzler. Being the son of a preacher, the family moved several times during Donald's school years but always migrated back to Circleville. In 1940, Don's father was assigned to the United Brethren Church in Jackson, Ohio, where Don began taking piano lessons. Don continued to take lessons for two years after graduating from Circleville High School in 1952. As a son of a preacher, Don had many opportunities to use his keyboard proficiencies to participate in a variety of worship services.
Don financed his college education by working two years at General Electric, before starting college, and continued working there in the summers until graduation from Otterbein College in 1958, where he received a Bachelor of Music Education degree. After graduation from Otterbein, Don's first employment was with Summers and Son Music stores in Columbus, Chillicothe, and Lancaster, Ohio and served six years in the Ohio National Guard, 27th Division Band. Don attended summer and evening classes to earn a Masters of Arts Degree from The Ohio State University in 1966 with a major in Educational Administration.
Don began his career in the Teays Valley Local School District, teaching music at Scioto Township School in Commercial Point. After obtaining his certification for elementary education, Don continued his professional career in the Circleville City School District as an Elementary Principal, Elementary Supervisor, and Assistant Superintendent. Don retired in 1992 after 35 years of service. Don's professional career allowed him the privilege to help shape the lives of many students.
Donald was a member of Community United Methodist Church since 1971 serving on many committees as well as serving as the church organist for fifty years.  In addition to his parents he was preceded in death by brother Spurgeon Metzler and sisters Janet and Darlene.  He is survived by his wife Ula Jean, of 61 years of marriage; brothers Gerald (Susan) and Glenn (Mary); a brother-in-law, Ed (Linda) Ater; sons Jeff (Sylvia) and Jon (Jennifer); five grandchildren Justin (Angela) Park-Metzler, Audra Metzler, Cameron Metzler, Cole Metzler, and Ian Metzler; one great grandchildren, Lynlii Park-Metzler, and many nieces and nephews.  In lieu of flowers, donations may be made to the Ula Jean Ater Metzler First Generation Scholarship Fund by visiting the Pickaway WORKS website www.pickawayworks.com.     Funeral services will be held on Thursday, August 11, 2022 at 1:00 p.m. at the Community United Methodist Church with burial to follow in Browns Chapel Cemetery.  Friends may call at the church on Thursday from 11-1 p.m.  Online condolences can be made to www.wellmanfuneralhomes.com.