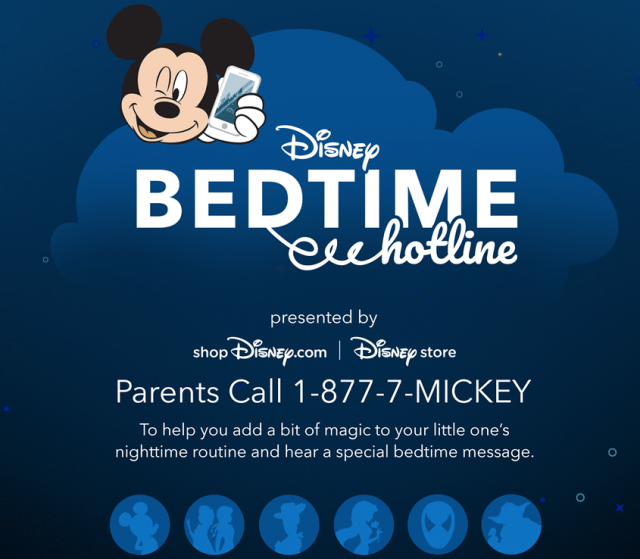 USA – Disney is bringing back bedtime messages to help kids get ready for bed.
Six total messages are available from the phone call from Mickey Mouse, Woody, Jasmine, Anna and Elsa, Yoda and Spider-Man to give kids something to look forward to at bedtime – and give parents a break.
The phone number will run from today through September 30 and is available throughout the United States. Callers can also opt-in for a one-time text.
The toll-free number, 1-877-7-MICKEY is available now until the end of the month.
While the hotline will only run through the end of the month, the Disney Bedtime Adventure Box is available to order monthly or annually for shipment on a monthly, quarterly or semi annual basis, and is the perfect gift for birthdays, holidays or special days. The Disney Bedtime Adventure Box is the third monthly subscription box offered from shopDisney.com|Disney store after the Disney Princess Enchanted Collection and Disney Backstage Collection.
This offer is to promote a line of sleep shop sleep items disney is offering to check them out click here:https://www.shopdisney.com/sleep-shop/?CMP=SYN-bedtimehotlinePR-sleepshop