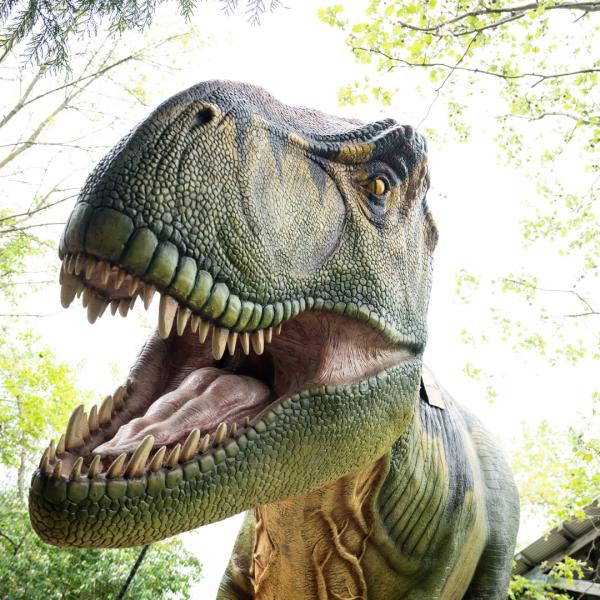 Powell, OH — Guest-favorite Dinosaur Island is returning to the Columbus Zoo and Aquarium on Memorial Day weekend starting Saturday, May 27, 2023, and will run through the end of October. Guests can expect returning favorites, including the Triceratops and Stegosaurus among many other new dinosaurs.
This prehistoric adventure transports guests 251 million years back in time to the start of the Paleozoic Era, when the Rhynchosaurs and Cynodonts first appeared. During this experience, guests will discover over 20 animatronic dinosaurs. Made of steel with urethane waterproof skin, the dinosaurs have eyes that shift and blink, tails that move, bodies that breathe, and electronic "brains" that activate and control their movements and sounds.
The dinosaurs began arriving at the Columbus Zoo on Monday, Monday 8, 2023, and were installed after being unloaded from trucks by forklifts and other heavy equipment.
Guests will be able to experience this expedition that features a walking path and boat ride in the Zoo's Australia and the Islands region. The largest dinosaur featured is the Brachiosaurus, standing 30 feet tall and 65 feet long.
A special admission ticket is required for entrance and is not included with Zoo admission. Admission to Dinosaur Island is $3 for general admission, $2 for Columbus Zoo members, and free for Columbus Zoo Gold members, as well as included in the price of a ZooMore Wristband.
New Dinosaurs for 2023:
· Acrocanthosaurus – Large theropod from the early Cretaceous period. Its name means high-spined lizard and refers to the high spines on many of its vertebrae.
· Amargasaurus – Sauropod dinosaur from the early Cretaceous epoch. Known for two parallel rows of tall spines that ran down its neck and back. The spines might have been used for display, combat, or defense.
· Deltadromeus – Theropod from the mid-Cretaceous period found in Northern Africa. The name Deltadromeus means "agile runner."
· Diabloceratops – Ceratopsian dinosaur that lived during the Cretaceous period. The Diabloceratops is known for its long, curved spikes that rise up from its frill. The name Diabloceratops means "devil-horned face."
· Edmontonia – Lived during the late Cretaceous period and named after the Edmonton Formation in Canada where it was first found.
· Troodon – Relatively small, bird-like dinosaur from the late Cretaceous period. The name Troodon is Ancient Greek for "wounding tooth."
Returning Dinosaurs:
· Brachiosaurus – Lived in the late Jurassic period (145 million years ago). One of the tallest dinosaurs that ever lived!
· Stegosaurus – Lived in the late Jurassic period (155 to 145 million years ago). Spikes on their tails were used for self-defense.
· Tyrannosaurus rex – Lived in the late Cretaceous period (approximately 65 million years ago). Name means "tyrant lizard king."
· Triceratops – Lived in the late Cretaceous period (approximately 68 million years ago). Name means "three-horned face"
The dinosaurs were acquired from Billings Productions in Allen, Texas. As the leading provider of animatronic dinosaurs for zoos, museums and theme parks in North America, they specialize in producing large, life-size animatronic dinosaurs that can withstand outdoor weather for traveling or permanent exhibits.
To "unearth" more information about Dinosaur Island and other attractions at the Columbus Zoo, visit the rides and attractions page.