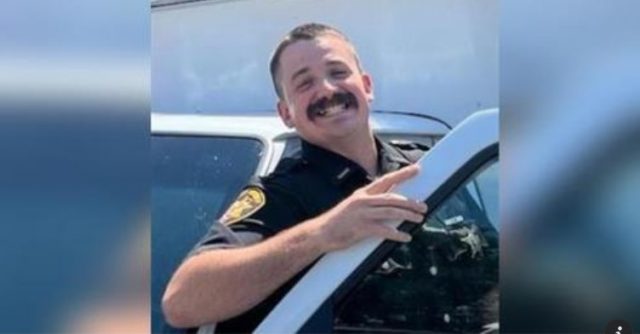 Daniel J. Kin age 34 of Upper Sandusky, a Wyandot County Sheriff's Deputy died December 15, 2022 at Grant Hospital Columbus, OH following an automobile accident in Pickaway County. He was born on June 16, 1988 in Upper Sandusky to Franklin and Susan (Atkins) Kin. His mother preceded him in death. His father Franklin (Lisa) Kin survives in McCutchenville. Dan married Erin M. (Margraf) Kin on September 10, 2016. She and his two children Jaxon Kin and Arlo Kin survives.
Dan is also survived by his sisters Jennifer (Charles) Eckstein, Cassandra (KC) Sampsell, Stephanie (Ryan) Kitzler, Elizabeth Kin, Hillarie Kin, Roxie Kin, in-laws Michael (Cynthia) Margraf, brother-in-law Brandon Margraf, and Nieces, Nephews, Aunts, Uncles and Cousins.
Dan graduated from Mohawk High School class of 2006 where he was a member of the FFA and served on the Wyandot County Junior Fair Board. He continued his academic's at Terra State Community College and graduated from the police academy. Dan started his career in law enforcement at Carey Police Dept., continued his profession at the Seneca County Sheriff Dept., for seven years. He had the opportunity to become a deputy with the Wyandot County Sheriff Dept and loved his rewarding career. Along with working law enforcement he and his father where grain and livestock farmers. Dan especially enjoyed working with cattle, being outdoors, cutting firewood, wildlife and mushroom hunting. He was a member of Our Lady of Consolation. Dan was a dedicated father and husband. His family and friends meant the world to him and his smile lit up the room. Dan will be forever loved and forever missed.
A funeral service will be held on Thursday December 22, 2022 at 11:00am in Our Lady of Consolation with Father Tom Merrill OFM Conv. officiating. Burial will follow at St. Mary's Cemetery, Carey. Visitation will be on Wednesday December 21, 2022 from 4pm-9pm at Our Lady of Consolation 315 Clay Street, Carey, OH 43316. In lieu of flowers memorial contributions may be made to the Daniel L. Kin Memorial Fund (for Jaxon and Arlo Kin) and can be sent to Bringman Clark Funeral Home 226 E. Wyandot Ave. Upper Sandusky, OH 43351. Visit www.BrignmanClark.com to view the Life Tribute DVD, extend a condolence or share a memory.
To send flowers or a memorial gift to the family of Daniel J. Kin please visit our Sympathy Store.